Johnnie's Charcoal Broiler treats tastebuds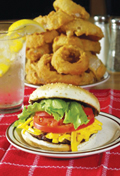 Thick cheeseburgers, juicy hot dogs and grilled cheese sandwiches. What more could a college student ask for?
Just a hop, skip and a jump away from OCCC is Johnnie's Charcoal Broiler, located at 421 SW 74 Street.
Johnnie's has been a local favorite for as long as I can remember but much like an old friend, we'd drifted apart over the years.
But unlike some old friends, I was thrilled to find that on a recent visit, good ol' Johnnie hadn't changed a bit.
Just walking into the place is reminiscent of younger days. You go through a school cafeteria-esque line, where you immediately place your order, pay, and get your drink before you even sit down.
Unlike a school cafeteria, though, you don't have to worry about any mystery meat here.
From southern comfort food favorites to fancy salads topped with feta, Johnnie's truly has a little something for everyone.
But, with apologies to the vegetarians out there, nothing comes close to the burgers.
There are 13 basic burgers to choose from, ranging from the original $4.39 hamburger to the $5.99 double burger, and countless combinations in between.
The beef patties are thick, juicy, and cooked to perfection. Cheeseburgers are topped not with a floppy slice of processed cheese, but rather a heaping handful of freshly shredded cheddar.
The options go from the traditional, like a burger with mustard, pickles and onions, to the fantastical — like a Caesar burger with lettuce and dressing.
For $6.95, you can even pick your three favorite flavors and have them presented to you on a single platter as miniature sliders.
And actually, vegetarians, I revoke that earlier apology: Johnnie's even offers a veggie burger, so there truly is something for everyone.
Despite my self-proclaimed status as a hot dog connoisseur, it's hard for anything to top the delicious burgers — though the frankfurters certainly give them a run for their money.
With prices ranging from $4.39 to $5.39, the hot dogs at Johnnie's are all foot-longs topped with various condiments, served atop a delicious bun.
And for the traditionalists out there, you can even order a steaming grilled cheese and cup of homemade chicken noodle soup, perfect for a dreary winter day or for those looking to reminisce about simpler times.
When you order, keep in mind that sides like French fries, onion rings, and homemade potato chips are sold separately, and can be a little on the pricy side. However, even a small side of the fries, at $2.19, is a very generous portion, and incredibly delicious with a juicy bacon cheeseburger.
Drinks start as low as 99 cents for soda, and since customers dining in can refill as many times as they like, there's no need to splurge for the larger cup.
So next time your stomach's growling for a juicy burger, salad, or even just a grilled cheese, take a short drive down I-240 and stop by Johnnie's. Your taste buds — and your wallet — won't regret it.
Rating: A+
—Whitney Knight
Online Editor
To contact Whitney Knight, email onlineeditor@occc.edu.