Students encouraged to be active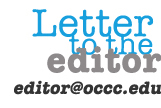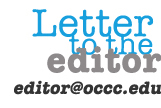 To the Editor:
Recreation and Fitness and Student Support Services invite all OCCC students to "Fall into Fitness" this semester.
Successful people typically are those who engage in some kind of activity each week to help keep them focused and less stressed.
We know that not everyone is or can be a competitive athlete, so we have planned this fall's promotion to encourage rather than compete.
Personally, thirty years ago, I could do an hour of high impact aerobics with Jane Fonda every day. Today, I could get the same workout just trying to get into spandex workout clothes.
Beginning Sept. 6, for each time you use the facilities in Recreation and Fitness or engage in one of their sponsored activities (either free or for a fee), you will be eligible to place a ticket into a box.
Each week, we will draw names for weekly prizes such as water bottles and insulated lunch bags. Each month, names will be drawn for prizes such as exercise travel kits and T-shirts.
At the end of the semester, even bigger prizes such as $50 gift cards will be up for grabs.
The more you participate, the more chances you have to win.
Whether you choose to compete on an intramural team, sign up for an exercise class, or just lift weights, you'll be able to improve your health and fitness, make new friends, and possibly win cool prizes.
We hope to see you there all semester.