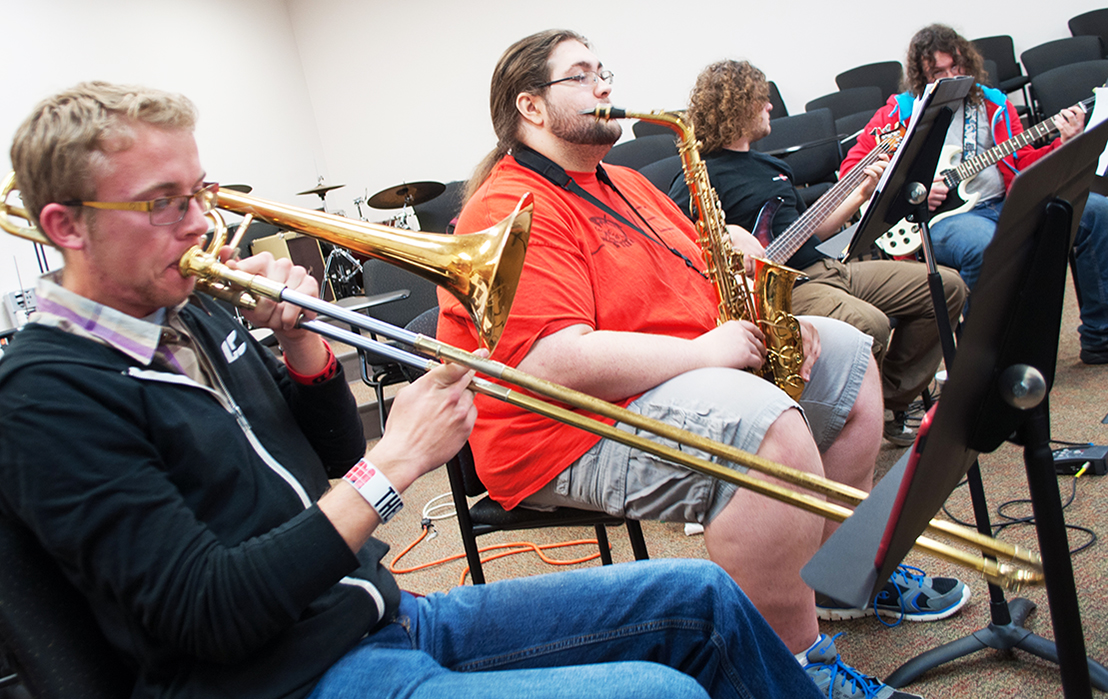 Just walking into a rehearsal for the jazz band, one can feel the pulsating musical notes in the air. The eight-member ensemble was already deep into practicing warm-ups, rehearsing for their upcoming concert at 7:30 p.m. Tuesday, March 11, in the Bruce Owen Theater.
The band practices in room 132 in the Visual and Performing Arts Center four hours each week — two on Mondays and two on Wednesdays.
The group consists of trombonist Josh West, alto saxophonist Stanley Hall, bassist Zach Lebo, guitarist Jared Bross, drums played by adjunct music professor Mark Giammario and three jazz singers. The vocalists are Nicole Pearce and Stefanie Cox, both altos, and Chris Davis, tenor.
Music Professor Mike Boyle conducts the band during rehearsal as well as plays the piano.
He said those who attend the performance will find music they know and like, even if they aren't jazz fans.
"This show actually has some pop-rock influences, which is kind of unusual for jazz," Boyle said. "It's songs the students may have heard before, like John Lennon, Jackson 5 and Stevie Wonder.
"The theme of this concert is 'The New Standard' but we are playing old standards and new standards." Some examples of the music that will be played are "Superstitious" by Stevie Wonder, "Don't Give Up" by Peter Gabriel and "Imagine" by John Lennon.
As musicians know, with practice comes perfection.
After a shared laugh, the members of the group admitted they could practice more. Boyle said the college jazz performers have to balance a slew of responsibilities.
"Student practice time varies depending upon how much music theory and music history homework they have, along with other bands and work schedules, and other musical commitments.
"On a good week as an educator, I practice eight hours in one week, but that was the week we had snow days," Boyle said. "So instead of going to school, I'd practice the bass.
"Student musicians will practice between two hours and four hours a day."
Not everyone in the group started by playing jazz music.
"I started in a symphonic concert band in middle school," sax player Hall said. "I started on the clarinet."
This group has been working hard for a number of weeks. Lebo said they are always excited to play shows. This concert is free and open to the public.
For more information, contact Boyle at 405-682-1611, ext. 7245, or email mboyle@occc.edu.