iPhone app links students to OCCC campus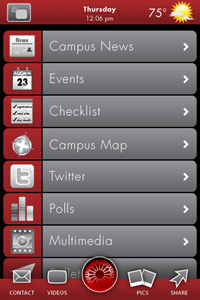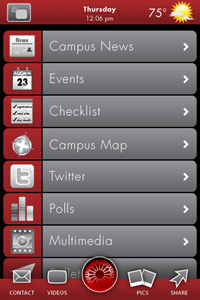 Click
here
to download the free OCCC iPhone application.
If you were lost on campus or wondering whether class was canceled, what would you do?
For those with iPhones, there's now the option of using a new application aptly named "OCCC."
Online Marketing Coordinator John Richardson said the app was created to help students with those issues and more.
The application provides users with real time GPS navigation of the campus, OCCC news and events, polls, links, and the OCCC Twitter feed.
"The coolest feature is the campus maps," Richardson said. "The app uses GPS location and Google Maps to help the user navigate around campus."
He said testing has shown this feature to work well.
Early tests involved walking around campus, trying the capabilities of the GPS locator.
Richardson said the signal locates users on all floors and in all buildings.
"We want to communicate with students using the technologies students want to use," he said.
"The information has to be fresh. If we don't change regularly, users won't want to use the app."
Richardson said the newsfeed would be updated regularly, giving students up-to-date information.
Psychology major Dekota Rhodes said the map portion of the app will be helpful.
"It's easy to get lost around campus," Rhodes said.
Business major Xander Stover echoed that sentiment.
"If I were a new student, I'd definitely use the navigation feature."
Easy access is what impresses Chelsea Myers, graphic design major.
"I think it's great because if I could just get my phone out and have access to all that information, I would," she said.
The application was developed by Straxis Technology, a Tulsa-based company that has developed apps for West Point and the University of Kansas, among others.
"I think it's good when you get a great product from an Oklahoma-based company," Richardson said.
He said OCCC is the first Oklahoma community college to have an app.
Some of the application's other features include OCCC YouTube videos, weather, and a directory of departments and labs across campus.
Richardson said although the app is only available for iPhones now, a version which can be used on Androids and Blackberrys would be available soon.
"These versions will have most of the features that are available in the iPhone version," he said.
The application is now available free on iTunes and can be found by searching "OCCC."
To contact Christian Kosted, email onlineeditor@occc.edu.