Intramural hoops heats up in tourney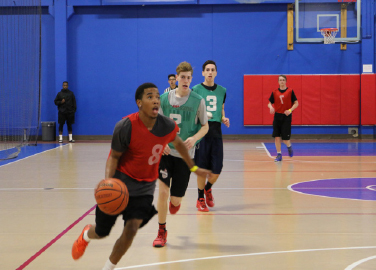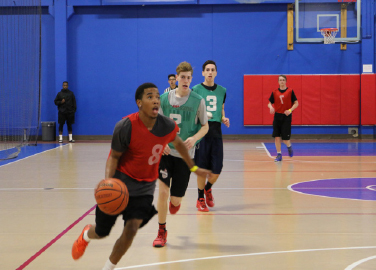 The second place team in league play, Illicit, came from behind March 2 to knock down first-place rival Duhh Saahh (4-0) in the post-season basketball tournament in the gym.
Illicit (3-1) was down 5 points at halftime, but came back to win the championship crown with a final score of 79-74.
At first it seemed Lady Luck was on Duhh Saahh's side, but it turned out the gods wrote a different script to end this semester's intramural basketball season.
Duhh Saahh started the postseason run against the Bloccc Boys (1-3), who got the tournament started early in the evening by knocking off the Tune Squad (1-3) with a score of 66-45.
Duhh Saahh had previously defeated the Bloccc Boys 77-32 during the regular season on Feb. 10.
However, the Boys showed they were an improved team as they matched Duhh Saahh point for point and tied the game 30-30 at the half. Late in the second half and up by a couple of scores, the Bloccc Boys were poised to be the first team to send Duhh Saahh packing.
The game ended with Duhh Saahh scoring off untimely fouls to edge the Boys 59-57 in the closing seconds.
Illicit's match earlier in the evening against And 1 (1-3) was a closely contested game, much like the last meeting between these two teams. On Feb. 10 Illicit beat And 1 65-60. Essentially the same result occurred in the tournament as Illicit raced to the championship game following the 79-75 victory.
Duhh Saahh had reason to be confident going into the final match. When the team met Illicit on Feb. 17, Duhh Saahh won an 86-59 blowout.
Saahh's Teran Simpson spoke about needed adjustments to his teammates before the game.
"We need to set screens and move the ball," said Simpson, whose major is business.
The first half ended with Duhh Saahh leading 35-30 and it seemed they would be the eventual champs.
But the tables were turned by the end, when Duhh Saahh's hopes of a storybook season started to look bleak.
Saahh's defense started to collapse and Illicit took advantage of the unnecessary fouls that would lead to the 79-74 upset.
"We just kept playing defense and pressure turned it over for us," said Illicit's Holden Cory Linzy, an  accounting major.
Illicit's championship victory wrapped up the intramural basketball season for the spring semester. However, Basketball Open Run will start on March 23, and run through May 4.
From 5:30 to  8:30 p.m. on Wednesdays, students will be allowed to show up alone or with their friends and play organized pickup basketball games, said Matthew Wright, sports and recreation specialist.
For information on Basketball Open Run, contact Sports & Recreation Specialist Matthew Wright at matthew.j.wright@occc.edu.