Y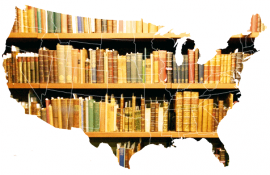 ou've found the perfect article for your essay on the library's website but are unable to access the full text. What now?
Instead of searching for another article or changing the topic of your paper, try using the Interlibrary Loan system, said Reference Librarian Rachel Butler.
"… We can share [articles and books] we have and we can also borrow from other libraries," she said of the service.
Butler said many libraries use the system — in Oklahoma and other states as well.
She said the OCCC library even lends out and borrows things from libraries in other countries.
"[Interlibrary Loan] means that we can get almost anything that has been published for students if we don't have what they need here or online." she said.
Butler said the service is free for OCCC students and employees. They can use the system to borrow articles, books, CDs and DVDs — everything but textbooks, she said.
"But we always have textbooks copies (on reserve) at the front desk."
For books, CDs and DVDs, the average wait time for all shipments is usually less than a week, Butler said.
To borrow a full-text article, Butler said, there is typically a link under the article that doesn't contain the full text that reads: "Request this via Interlibrary Loan."
Students then click on the link to fill out a short online form, then submit that, she said.
Typically, Butler said, the article is emailed to the student that day or the next.
There are three ways to borrow books through Interlibrary Loan, she said.
Students on campus can fill out the form at the library assistance desk. Or, go to OCCC library's webpage at www.occc.edu/library, choose "service for students." Then fill out the online form and follow the instructions.
The lending libraries decide how long the books can be kept, she said. That information is sent via email to OCCC librarians.
"Most often it is a month, maybe six weeks."
She said if that isn't enough time for a student, most of the time, the lending libraries will renew the due date.
"Students don't need to provide the location of the things they want to borrow," Butler said. "Library staff will take care of that."
A third way is to get an Interlibrary Loan card from the library called OK Share, she said. That card allows OCCC students to borrow books at libraries across the state by presenting that card along with a valid OCCC ID.
Megan Rodriguez, sociology major, said she didn't know about the program.
"I will use it in the future."
Yasmine Rivery, dentistry major, agrees that it is great.
"I think it is the opportunity for students to have more resources for their writing," Rivery said.
For more information about the Interlibrary Loan system, http://libguides.occc.edu/about/interlibraryloan