Idol showers fans with hits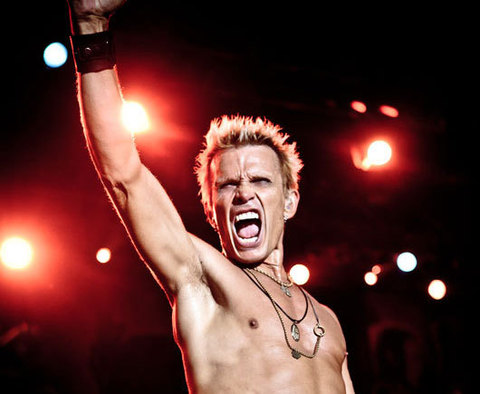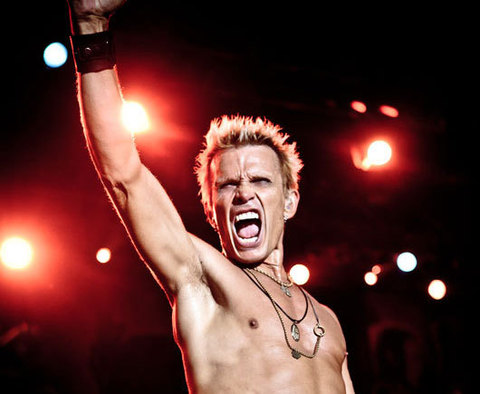 Billy Idol made his first of two stops in Oklahoma Monday, June 24, at Lucky Star Casino in Concho.
As the lights went down nearly 10 minutes after 8 p.m., Idol entered the stage, yelling with a fist pumped into the air towards the audience.
First on the setlist was "Ready Steady Go," followed by "Dancing With Myself" which instantaneously had the crowd dancing along.
Idol next received many woos and hollers as he stripped off his upper layers of clothing in time with the drumbeat during "Flesh for Fantasy," revealing a toned, bare chest.
Idol then played a new song titled "Love and Glory." "I know we've been spending over a year recording this album," Idol said. "I promise, it's coming."
Following a brief break in which Idol's band kept the music going, Idol entered the stage for "Cradle of Love," wearing his own tour shirt, and occasionally turning around and displaying the backside of it for the camera. Following the conclusion of the song, Idol took off the shirt, once again revealing his bare chest, and threw it into the audience.
After putting on a leather vest, Idol slowed down the pace of the show with an acoustic version of "Sweet Sixteen," a song he said was based on a true story about a man he knew who built a castle for a girl he thought he would marry.
Before "Eyes Without a Face," Idol made a statement to the audience: "I know a lot of you here in Oklahoma were first responders when all the storms hit," he said. "I think that's pretty fantastic and I want you guys to thank yourselves right now."
Following a Door's cover of "LA Woman," Idol took a few minutes to break, in which he let touring member and lead guitarist Steve Stevens perform a solo.
Idol emerged wearing a black and purple argyle suit which was off by the time he got to "Rebel Yell" a few songs later. The entire audience was alive with energy and pumped their fists in the air to the words "more, more, more" during the chorus of "Rebel Yell."
Wasting no time, Idol then exited stage after the song, only to return minutes later for a two-song encore. "Show them what a hit song sounds like," Idol said to Stevens, acknowledging him to play the recognizable opening lines on "White Wedding." The room was filled with cheering, followed by nearly every person in the room singing along.
"Mony Mony" was the last song of the night, which had everyone dancing once again. Idol made his way across the stage, and at one point, climbed stage equipment to better see the audience.
While Idol's set and lighting were minimal, it was perfect for his show.
Since this was my first time seeing Idol, I didn't know what to expect but was pleasantly surprised at his outstanding performance and his interaction with the audience.
On top of the multitude of items he threw into the audience throughout the show, Idol also took time to sign autographs for fans while continuing to perform.
Perhaps the best thing about Idol is while the man can obviously rock, it's clear he doesn't take himself too seriously.
Fist raised in the air, Idol's parting words were "And I'm Billy fucking Idol!
Rating: A+