"I REFUSE!" – How a man should get a pedicure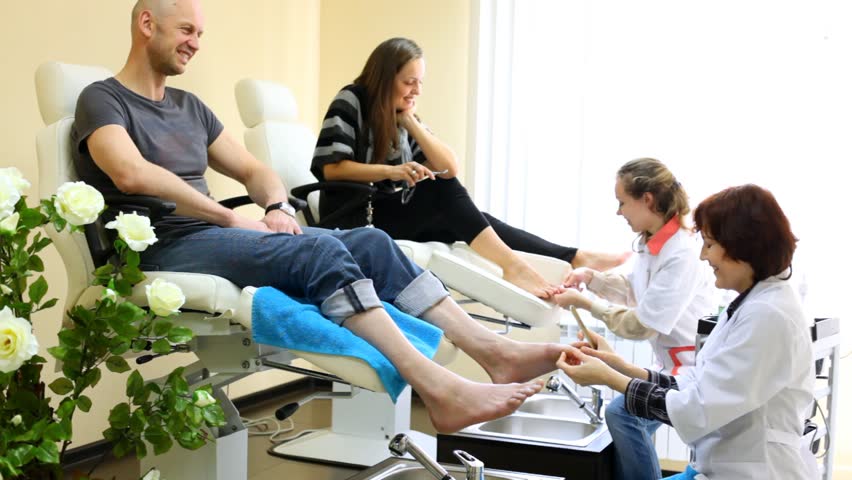 Growing up in Oklahoma and being told that you were soft or a sissy forced a young man to keep silent, questionable hobbies.
Barney was only accepted until the second grade. You suffered from head trauma if you collected Pokémon cards after the age of ten. As a freshman in high school if you ever shared a story about waking up early Saturday morning, watching cartoons in your underwear and eating Fruit Loops, you'd better be prepared to be the laughingstock of your school until graduation.
As we get older the 'macho-man' continues to grow with us. Of course it's no longer in the wrestling locker room or the boy's bathroom. It transitions into the local barbershop and construction sites.
At some point in time, way back before I was even thought of, some fella was informed that manicures and pedicures were considered feminine. The myth carried quite the load. It's 2017 and some guys are still becoming hip to the idea.
A man entering a nail salon was the stereotypical tumbleweed rolling across the road in an old western film.
As I began researching men's feet I couldn't understand why on earth they wouldn't give the opportunity a second thought.
I was swallowed up by the 'truth.' My mother and grandmother talked to me about pedicures at a young age. I relived the thrill I had, as a nine-year-old, anticipating exiting the building. Grandmother scared the living daylights out of me. If I ever wanted to be a hero deciding to take a stand while making my fellow men proud of my courage, I'd tuck my cape deep down in my pocket as secretly pouting took its place.
I wanted to believe the most important women in my life, but my stepdad at the time shattered those plans.
"Hell naw! You a boy!" he said.
We never did attempt a round table on the subject again.
As I grew older, eventually reaching the legal age of employment, on birthdays the women of my life adored the idea spending their day with me, doing whatever they wanted to do.
If you're reading, of course you know where this is leading. One day my mom stopped me and said, "I want you to take me to get my nails done." I pleaded while wadding up a couple twenty dollar bills in her hand.
"Just take the money," I said.
"I'm takin it but I'm taking you with me to the nail salon," she said.
Why did she have to go there and why did I have to go with her? It's her birthday; don't I look like the village idiot?
We headed down to the place.
I tried to keep my head down and avoid eye contact. I had my phone to keep me company so others wouldn't assume I was a participant. I didn't have unlimited data and I don't believe Bluetooth headphones were on the market. Desperate, I attempted to text people I haven't spoken to in quite a bit of time.
"Hey sexy?"
"What up CUZ!"
"Hey sexy?"
"AUNTIE talk to me tell me something good."
        Nobody answered.
It got so bad that I began to scroll up and down Facebook. I never stopped scrolling up and down.
        Ironically, I was sitting next to the nail dryer. Of course Grandmother sat next to me while going through the process. A young woman came and sat beside her. We locked eyes so I said "hello," attempting to hide my embarrassment.
Did I say I was with Grandmother? Of course playing it cool wouldn't work this time. I heard my grandmother talking with the young woman – all of sudden she mentioned me.
"My grandson is pampering me today," she says.
By this time I was hurt. I specifically prayed to Christ that she would not act this way; at least just for the hour we were there. I did a dramatic head lift. To my surprise the young lady looked to me as if she approved the behavior. I was in disbelief so when she sparked the conversation, figuratively I didn't have any lighter fluid. I could not match up any words to make a complete sentence.
The young lady suggested that I should get one done today as well.
"Yeah, Taye!" my grandmother insisted as if she planned to pay for it. The only thing I could say was, "Maybe next time."
Although I was lying through my grin I convinced them both that next time wouldn't be just a trip with the old lady.
Setting aside my morals, I began to consider my white lie. There could be some truth to my claim if I wanted.
But I wasn't going to go cold-heartedly; peer pressure would have to play its part.
Shanice Dupree shared with me that she doesn't mind a man participating in the salon trip.
"While dating I would take my guy friend with me; he would usually do the pedicures and decline the mani's," Dupree said.
I heeded that advice.
On my 23rd birthday, in an attempt to try something different, I decided to take the lonely drive to the salon. Of course there weren't any volunteers; besides, I didn't want anyone to know.
I took a deep breath and opened the doors.
"Hello, how can I help you? Manicure? Pedicure?" The clerk says.
I didn't want to be caught on the record stating I agreed to get one. Rebelliously, I nodded my head.
They began working on me. Soaking my feet while massaging my back, I truly understood the meaning of Simba's song; this had to be what a king goes through on a daily basis. I was hooked. I then recruited the homies.
        My uncle, Larry Abram Jr., stated that he at first had his doubts. In his prime, being a savage took you a long way. His wife convinced him to attempt one, and he's been an activist since.
Andre Williams Sr., my childhood mentor, absolutely loves pedicures. When asked about his experience(s) he repeatedly commented "Awesome!" so much that there wasn't any space where I could speak.
Ryan Chambers did get some work done but he didn't enjoy it too much. "I used to get the one on the hands done all the time with my ex-girlfriend. It sucks."
I didn't fault him; at least he was a good sport, but there's always a filibuster. I can't convince him, and his fiancé can't. I don't know what to do with this kid.
James West has made his mind all the way up. "I refuse," he said. I pleaded with him. I said, "You should go with your girl. You love her and she wants you to." He said, "Love only goes so far."
Preston Ray jumped into the conversation, reiterating my entire argument.
"I got a pedicure once and it was actually amazing," he said. "My feet felt great."
After he made his piece I chimed in, saying "See? You have to try." I even took my argument further by stating some facts. Health and style websites say that manicures and pedicures help your blood flow, prevent fungal infections and are overall better for skin. Foot Vitals, a website, said the same thing.
I even offered him a wager. I offered to pay for it. If he liked it I would pay for it and if he didn't I would pay for it, but before I could finish he interrupted with an obscenity.
"Shhhiiiiittttt," he said.
I thought I had him with the facts but you can't win them all. I did what I could. A man can still be a man while he gets his feet rubbed. Strange women, rubbing you and repeating,
"You like that?"
"How does that feel sir?"
"How was your day?" they ask while looking you in the eyes.
The sinister part about the experience is how cheap I feel after they reveal the total.