After his mother was terrorized on the streets of his hometown of Baghdad, and then, his best friend was kidnapped right before his eyes, international student Mahmud Sadik said he felt he had no choice but to sell his family's belongings and come to the U.S.
Like many foreign students, Sadik is no stranger to adversity. Although he has a stable life now in Oklahoma, he said his past is anything but.
For Sadik, living day-to-day in Iraq was a challenge.
He said because his brother worked for Time magazine, others considered his family "bad people."
"If you work for any American company, people [in Iraq] say you're working for the American military," Sadik said.
He said it was because of that, that his mother met with trouble.
Sadik said the car in which she was riding was stopped and she was thrown out onto the street.
He said the two men in the car weren't so lucky and were killed.
Sadik said his family's house was then sprayed with machine gun fire at 3 a.m. one morning, with his entire family inside.
"Everything was horrible," he said.
After that, Sadik's family moved to the U.S. but he decided to stay in Baghdad.
It wasn't long after that he lost his best friend to the ongoing struggle between Sunni and Shiite groups.
"My friend Omar and I were clothes shopping once and stopped by some terrorists."
Sadik said the men who stopped them were Shiites.
"They looked at our IDs, and saw my friend's name, which is very offensive to them — they dislike it," he said.
Omar, a Sunni, was thrown in a car and, Sadik said, he hasn't seen him since.
After Omar was kidnapped, Sadik's family —now living in Washington D.C. — told him to sell their house, cars, and come to America.
Despite his grueling past, Sadik is optimistic about the chance to live his own American dream and work in an office, he said.
"I want to get my [education] and maybe get some sort of job," he said.
"For me, Oklahoma is amazing."
Sadik has been in the States for only about 10 months, but said, so far, he is loving every minute of it — especially the milder weather.
"In Iraq, it's very hot, hotter than here," he said. "It's also dusty everywhere, so that's not very nice."
What most Americans probably take for granted, Sadik considers a blessing.
"Even the roads over here are so nice and organized," he said.
He said he likes Oklahoma more than being in the bustling city of D.C.
He also has family here, he said.
"Everyone there is so busy, looking straight ahead. Here, it's southern hospitality."
Iraq
---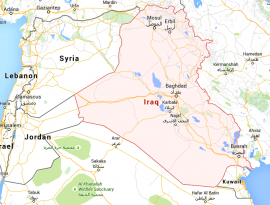 Capital:

Baghdad


Population:

35.42 million (2014)


GDP:

$220.5 billion USD (2014)


Size:

168,754 sq. miles
Official Language: Arabic


Currency:

Iraqi Dinar
Government: Multi-party system with the Prime Minister having executive power


Religion:

Islam


Details:

Iraq, officially the Republic of Iraq, is a country in Western Asia. The country borders Turkey to the north, Iran to the east, Kuwait to the southeast, Saudi Arabia to the south, Jordan to the southwest, and Syria to the west.

—www.google.com