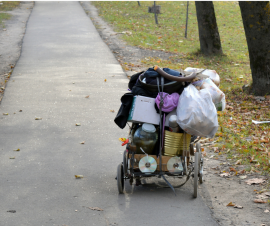 In Oklahoma City, spring brings sunshine, flowers, and the image of a homeless
person standing on the corner seeking food, money, or a sign of compassion from the
This image is a regular sight.
According to the Homeless Alliance of Oklahoma City, in 2017 a total of 1368
"countable" people experienced homelessness in Oklahoma City. 23 were recorded
dead in 2017; 14 were listed dead in 2016 without a roof over their head, or shortly after
being housed. 254 were counted as chronically homeless.
The organization ​
estimated that, "a community's annual number of homeless is
four to five times its one-night census… in this case 5,500-7,000 people experience
homelessness in Oklahoma City every year."
The website, endthehomeless.org, reported ​
an estimated 553,742 people in the
United States experience homelessness on any given night. "According to the most
recent national point-in-time estimate. This represents a rate of approximately 17 people
experiencing homelessness per every 10,000 people in the general population."
Communities are slowly pushing these groups out.
A Huffington Post story reported that states continue to pass more laws that
essentially make it impossible for people to escape the streets.
The article said those laws make it illegal to stand, sit, sleep, panhandle and
partake in other basic functions in public.
"In turn, police officers dole out fines, which often start out small but quickly
balloon into crushing debt for a person without means," the Huffington Post said. "Those
who are arrested, even for minor offenses, end up with a criminal record that add
another obstacle to employment and housing."
On January 16th, local media reports told the story of a homeless man who was
discharged from Norman Regional Hospital. ​
Marconia Kessee, 34, ​
went to the facility
for a headache. Later on, Keesee, was arrested after he refused to leave the hospital.
He died while in custody of the Norman police.
​
"Kessee was cleared by a hospital physician to be booked into the jail, where he
was found unresponsive in a cell about two hours later," the article said.
Body camera footage, shows officers arguing with Keesee, after he falls from the
wheelchair yelling in pain. The officers accused Keesee of faking an illness.
"Are you just putting on a show so you have somewhere to stay? Because we
can get you to Salvation Army," one officer said.