Dusty shoebox reveals WWII love story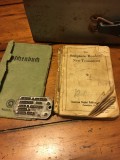 In 2004, 81-year-old Rosalee Sanders died. She named her grandson, Ted Shepherd, the executor of the estate. As Shepherd sifted through Sanders' fading memories and cluttered pieces of a life well-lived, he found a dust covered metal box and a crumpled shoebox.
Those boxes, Shepherd said, were "a piece of my history and all our histories."
Shepherd has worked in the lab at Community Hospital on SW 89th street in Oklahoma City for many years. Although his career involves drawing blood and working with doctors throughout the hospital, Shepherd has always been fascinated by history.
"I knew I had something here," he said, speaking of the boxes he found. "This is the stuff you'd read about in a book or a history textbook. But it's mine. It's my family's history right in front of me."
Inside the boxes were an assortment of letters. Love letters written in the midst of one of the greatest human travesties known to the world: World War II. Those letters follow Private First Class Johnny Coleman in the 47th Infantry from 1942, through the war, Coleman's imprisonment in a German POW camp and his return to the United States.
The year 1942 changed everything for Coleman. Not only was the nation he had grown up in thrust into its second World War, but Coleman would soon be forced to leave his girlfriend, Rosalee.
Without a the hope that he would come home from the war, Coleman married Rosalee just before he went to Basic Training in Fort Bragg, North Carolina.
The pair wrote regularly during that time. One of the earliest letters came from Rosalee on October 10, 1942. She wrote Coleman about the OU and Texas football game.
"Dear Johnny, we came to the Fort Hill game and Texas beat us again," Rosalee wrote. "We are going home Sunday – I'll answer your letter there. Sincerely, Mrs. John Coleman."
The letters between the newlyweds continued even after Coleman shipped out to the North African Theater in Tunisia. The US sent forces there to combat the Italian and Nazi forces that occupied North Africa in an operation called "The Tunisia Campaign."
Not long after that, Coleman was captured and taken prisoner.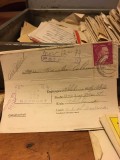 On April 9, 1943, and Rosalee waited on her regularly scheduled letter. Something was wrong. No letters arrived and Rosalee grew more anxious.
Two months later, on June 6, 1943, Rosalee received a different letter. Instead of the United States postage stamp and the casual writing, this letter had the word "Krieglsgefangerenlager" and a purple postage stamp with the image of Adolf Hitler.
Rosalee didn't realize that Krieglsgefangerenlager was that the German word for "Prisoner Of War Camp."
Coleman's letter was short: "Dear Darling, here I am writing you from a prison camp in Germany. I hope it is not long until I see you again. You know that I can't say much. Well honey, this is a hell of a place to be but I will have to stay here 'til the war is over. With lots of love forever, Johnny Coleman."
Federal records show that Coleman was captured by Nazi forces on April 17, 1943. He, along with the surviving members of his infantry, was taken to a Stalag 2B Hammerstein 99 Work Camps in V, a concentration camp located in Germany.
Coleman, records show, was allowed to keep his weathered copy of The New Testament and a green pocket journal. The camp allowed for the POWs to send one letter a day which was a luxury compared to many concentration camps across Germany at the time.
In the few written pages, The Pioneer was able to investigate a few of the names written down and concluded that the names were fellow POW's in the camp.
The letters sent by the POWs were heavily edited before being shipped to the destination. Whether it was whited out or simply cut and ripped out of the letter, each letter was was marked in purple stamps and the face of fascism.
It would not be until September 23, 1944, that Coleman would be liberated by Allied Forces. After his rescue, he was taken for medical treatment and honorably discharged. Coleman was home, stateside, with his wife by the time World War II ended.
Throughout the war, Rosalee worked in factories building tanks and airplanes for the Allied war effort. When her husband returned home, Rosalee quit her job and supported Coleman while he readjusted to civilian life. It would not be until 1946 that Coleman would get a job as a mechanic working for Cadillac-Chevrolet in Oklahoma City at $50 per week.
Several years later, in May of 1952, the US War Claims Commission would send Coleman a compensation form.
"This claims application is for compensation for subjection to inhumane treatment by the enemy government and/ or because the ex-prisoner of war performed compulsory labor under terms and conditions which violated certain articles of the Geneva Convention of July 27, 1929," The form read.
Coleman would receive $475 in compensation for his hardships in the war.
Coleman and Rosalee would remain married until July 4, 1989 when he died from brain cancer.
"My grandma was devastated when he passed," Shepherd said. "He didn't talk much about the war with anyone but who would? But yeah, she couldn't handle being alone without him. Without someone to help her."
Eventually, Rosalee would meet Orvil Sanders, a former World War II media who was stationed in Florida. Sanders and Rosalee were married during the 1990s. Rosalee died in 2004.
"I have nothing but respect for him (Sanders)," Shepherd said. "He really helped Rosalee whenever she was struggling and I don't know where she would have been if it weren't for him."
It's often said that was is destructive and catastrophic. That nothing can grow from the ashes of what has been destroyed through the rash reactions to a harsher side of human nature, but for Coleman and his bride, Rosalee, the saying became nothing more than a myth.
And their letters, safely stored away for decades, offer those who read them a brief, yet pure, look into the past.