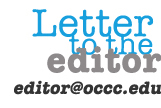 To the Editor:
I am your campus relations specialist at Higher One, the company your school partners with to electronically distribute financial aid refunds to students.
I read your recent article "Federal investigation finds fault with Higher One" and was disappointed by some of the misunderstandings I saw in the article.
Schools partner with Higher One so students can receive their financial aid dollars faster and more conveniently by allowing them to choose online how they want to receive their money.
Higher One will always give students a choice in how they receive their money and all of the options are cost-free. This is a standard set by the Department of Education.
That said, students should know that they are not required to have a checking account with Higher One. Students are able to choose how they want to receive their money and are encouraged to select the option that works best for them.
Not all banks are very upfront about their account and fee structures, but Higher One is. If you choose to open a checking account with Higher One, there is no fine print and there are no hidden fees.
We let you know about everything directly before you open the account, so be sure to read and understand your options carefully.
Moreover, Higher One does not offer any instruments of credit because it's not our goal to increase student debt. Rather, we work toward giving students the tools necessary to make responsible money management choices.
We believe that students are smart and have the ability to be financially responsible when given the tools to do so.
The bottom line is to read the disclosures and do your homework before choosing an account.
More information, including a money 101 toolkit that can help you save and spend wisely, can be found online at http:// bit.ly/useforfree.
Now you know the facts and we aim for your experience with Higher One to be positive. Good luck inside and outside of the classroom this year.
—Lauren Perry
Higher One, Inc. Campus Relations Specialist