Have fireworks fun — safely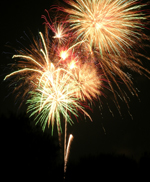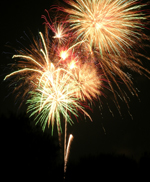 As the Fourth of July draws near, many will celebrate the occasion by lighting up the sky with fireworks.
Mustang is one of the few Oklahoma cities that allows citizens to set off fireworks on and around the holiday, said Mustang Firefighter Chris Edwards.
Edwards said all fireworks, including childhood favorites like snakes and sparklers, are illegal in Oklahoma City.
But from now until July 3, it is legal to set off fireworks within the Mustang city limits between 3 and 9 p.m. On July 4, fireworks can be set off between 9 a.m. and 10 p.m.
However, if you find yourself handling one of the explosive devices, Edwards said, you must take proper safety precautions.
"Fireworks are unsafe," he said. "They are dangerous."
Edwards said everyone, especially children, should be supervised when they are around fireworks.
"Adults need to be the ones lighting them — period," he said.
Every year, Edwards said the Mustang Fire Department and other emergency services tend to "a lot" of kids who sustain burns from handling fireworks.
He said celebrants must also be aware of their surroundings. Fireworks should only be lit in open areas away from homes.
Proper clothing also is a must, Edwards said.
"I know everybody wants to be running around in their summer clothing, but if you're doing a lot of the lighting, jeans are always the best," he said. "They don't burn as easy as cotton shorts."
Edwards said safety measures must be taken when disposing of fireworks, too.
"We respond to multiple trash can fires every Fourth of July and it's not because people are just setting them on fire.
"They set off fireworks, gather all of the trash together and put it in the garbage. What they don't realize is there's still hot embers there and after a few hours, they set everything on fire."
After using a firework, Edwards said, submerge the remaining casing in a bucket of water before throwing it out — even if you don't see any embers. Then, it's safe to put it in the trash along with everything else.
And, speaking of trash, Edwards said, those who do set off fireworks in cities where it's allowed should clean up after themselves before leaving.
"A lot of years, the [Mustang City Council] argues about taking the privilege to shoot fireworks away because people come in from out of town and just leave the trash for other people to pick up.
"So if you go somewhere to pop the fireworks, make sure you pick up the trash when you're done."
Even if you're not celebrating with pyrotechnics, Edwards said, recent weather changes means everyone is feeling the heat.
"We're already in 100 degree temperatures," he said. "If you're outside, you have to stay hydrated."
Edwards said many believe they can stay hydrated by drinking a glass of water while they're at the lake or outside barbecuing, but it actually needs to be much sooner.
"If you know you're going to be out tomorrow, you need to start drinking water today," he said. "It takes a little bit for that water to get into your system."
If an injury occurs or a fire starts when you're out celebrating this Fourth of July, call 911 immediately, he said.
For more information about staying safe during the holiday, visit www.usa.gov/Topics/Independence-Day.shtml.
For a full list of Oklahoma laws regarding fireworks, visit www.oscn.net. From there, click "Legal Document Index" at the top of the page and search for "fireworks" under the Oklahoma option.
To contact Whitney Knight, email onlineeditor@occc.edu.