Graphic novel creative and funny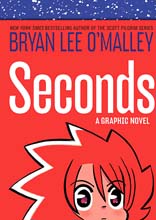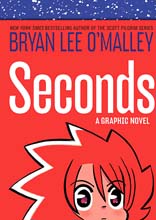 Over spring break I finally had time to sit down and read the graphic novel "Seconds."
I would have read it much sooner had I known how enjoyable the book was going to be and how quickly I would complete it.
"Seconds" tells the story of an ambitious young girl named Katie.
She's the talented head chef of a successful restaurant named Seconds with plans to open an even better restaurant in the near future.
But, suddenly, things start to fall apart in Katie's life.
The progress of her new restaurant begins to stall, she runs into her ex-boyfriend, her fling with a co-worker goes bad and one of her waitresses gets badly burned.
Within a day, Katie's pretty terrific life becomes not so terrific.
Luckily for Katie, a mysterious girl appears in the middle of the night with simple instructions for a do-it-yourself do-over.
All Katie needs to do is write down her mistakes in a notebook, consume a magic mushroom and fall asleep.
And, just like that, all the bad stuff never happened. Katie is given another chance to get things right.
But Katie eventually begins to abuse her new god-like ability by trying to make her life perfect, which ends up causing more problems than she could have possibly imagined.
"Seconds" is the most recent graphic novel created by Bryan Lee O'Malley.
O'Malley's previous graphic novels include "Lost at Sea" and the comic series "Scott Pilgrim," which was adapted into the film "Scott Pilgrim Vs. the World" in 2010.
If you're a fan of O'Malley's previous work than you will most certainly enjoy this one as well.
Yeah, it's not nearly as big as "Scott Pilgrim" but the story and characters are just as creative and enjoyable.
Overall, "Seconds" is a humorous and delightful story with a compelling lead character and gorgeous illustrations so good you'll never once be tempted to look away.
Rating: B+
To contact Ethan Cooper, email pioneerphotog@occc.edu