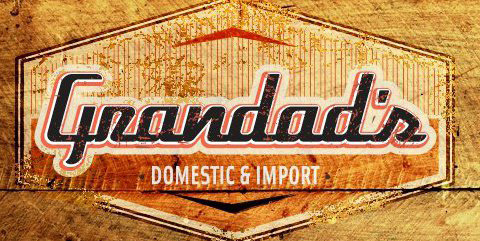 One of my favorite smells is of my grandpa's garage. He was a mechanic and I always remember him smelling like the oil in his garage.
On occasion, I'll catch a whiff of that smell and be taken back to some of my favorite memories before Grandpa died.
Recently, a bar opened in Oklahoma City that reminds me of my grandpa too.
Grandad's is located at 317 NW 23rd Street.
Grandad's is a smoke-free bar with a wonderful atmosphere.
When you walk in, you instantly feel like you're at your grandparent's home. Large family-style tables are the norm, an old couch and a couple of old arm chairs sit around an old tube-style television. An old, broken motorcycle sits high, overlooking the bar beside rusted oil cans and tools. The bar is made of finished wood emblazoned with the Grandad's logo. A garage door rests against the main wall.
My favorite decorations though are the many black-and-white photographs of grandads on the wall.
After striking up a conversation with the bar owner behind the bar, he said we could bring in framed pictures of our grandad and they would hang them up.
The service is absolutely friendly.
In multiple trips to the bar, the small staff has remembered me and my girlfriend and kindly struck up conversations.
One night, two older men played guitars and banjos and sang classic country songs by Johnny Cash and the like.
The bartenders serve up beers either from cans, "just like Grandad drank," or from local breweries on tap as well as having a full liquor bar. Grandad's doesn't serve Bud Light and Coor's Light and for that, I love them.
The patrons of Grandad's are a mix of characters. On any given night you could get a healthy mix of hipsters, people in their 50s and 60s, and everyone in between.
Grandad's probably isn't for everyone. It's not a dance hall and it's not a place to go get wasted but rather a place to have a beer and enjoy conversation with the people around you.
If my grandfather were alive today I'm sure he would approve of Grandad's.
Even though I never saw Grandpa drink a beer, I feel like he would feel at home sitting at the bar, telling his stories from the war and of his 14 grandkids.
Rating: A+
—Mitchell Richards
Special Project Reporter
To contact Mitchell Richards, email staffwriter4@occc.edu.