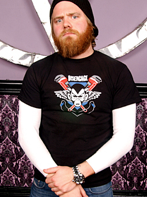 "A hero is no braver than an ordinary man, but he is brave five minutes longer." – Ralph Waldo Emerson
There is a sad, ironic parable that often overshadows the deaths of those who live a certain lifestyle.
We all, through docility or vibrancy, live life by the terms we choose to and (if we do it right) we will usually see those choices be the guidepost for how we exit this world.
This could easily be narrowed to a question of probability — of course a racing enthusiast dying in a car wreck isn't as surprising as their death would be, say, at the hands of a half-masticated apple.
A pyromaniac dying in a fire presumably would not cause as many a head to turn as a pyromaniac drowning would.
We grow to an assumptive point with people whose actions characterize them and when that character ultimately sees them through life — although we are saddened — it is with solemn reassurance that we know they died as they had lived.
This was no truer than for Ryan Dunn.
The majority of the public know Dunn through his work on the MTV series "Jackass" and its three ensuing major motion pictures — most recently "Jackass: 3D."
Dunn also regularly appeared on pro skateboarder, best friend, (and self-professed nuisance) Bam Margera's own MTV production of "Viva La Bam."
Before the days of "Jackass" however, Dunn and Margera were battering their bodies, as well as the nerves of most of West Chester County, Pennsylvania, for their own entertainment as they and a handful of friends produced four home videos under the name "CKY" or "Camp Kill Yourself."
These videos were the predecessors to what the group would produce for their run on "Jackass" and, on a personal level, I find that the stunts and pranks done by CKY far surpassed most anything the Jackass crew would ever put on (as evidenced by the fact that MTV used a number of "CKY" clips to supplement their episodes of "Jackass.")
Dunn intermittently operated under the pseudonym "Random Hero" as he participated in his various body battering stunts. (My favorite being a simple, yet painful, barrel roll from the roof of a random house that left Dunn to utter one his most memorable quotes: "Oh my poor, G** d*** spine!")
The bearded daredevil also starred in Margera's 2003 independent film "Haggard" where Dunn played himself in a story based upon one of his more destructive previous relationships.
After "Jackass" and "Viva La Bam" eventually ended, Dunn took a stab at what he called "real" acting with a role on "Law & Order: SVU" and began to host MTV's "Homewrecker," a show billed as "the anti-makeover show" where Dunn assisted individuals in revenge scenarios against their roommates.
Later, Dunn took to touring the country with Margera's oft-stomach-turning uncle Don Vito as they accompanied "Fight Paris" and other musical acts carrying their stunts and comic relationship from city to city. and eventually released the 2007 DVD "Dunn and Vito's Rock Tour."
Most recently, Dunn had begun hosting cable channel G4's "Proving Ground" where Dunn and co-host
Jessica Chobot would take video game, television, and movie scenarios and test them for "real life accuracy." The series debuted on Tuesday, June 14 and, following his death, was pulled from the air schedule by G4. The fate of the show is unknown.
Dunn died Monday morning in an auto accident that claimed the life of his passenger, Zac Hartwell, as well.
Autopsies are currently being done to identify the possible cause of the crash. Alcohol is presumed to have been a factor but has not yet been confirmed. Hours before the crash, Dunn had apparently posted a picture to Twitter of himself and two friends drinking what looked to be alcohol.
Roger Ebert, shortly after hearing the news of Dunn's death, tweeted his own commentary consisting of: "Friends don't let jackasses drive drunk." The post caused a stir and a response from Margera, who had only learned of Dunn's death hours before.
"I just lost my best friend," Margera wrote. "I have been crying hysterical for a full day and piece of s— roger ebert has the gall to put in his 2 cents."
Margera quickly followed with: "About a jackass drunk driving and his is one, f— you! Millions of people are crying right now, shut your fat f—ing mouth!"
"Jackass" alums including Johnny Knoxville, Wee Man, and Steve-O put forth public responses over Twitter as they all expressed their grief at the passing of someone Knoxville described as his "brother."
Many fans held Ryan Dunn as their personal favorite among the ensemble casts of "CKY" and "Jackass." Dunn was the closest to personifying the "everyman" in a group of individuals who each possessed a flamboyance that set them apart.
Yet, it was Dunn's shoes who you most easily saw yourself in — far easier than you did that of Bam's or Knoxville's — and it was that personal connection that made him esteemed in the eyes of his fans — that and the fact that it takes a special kind of person to agree to jump into a lake of poo.
Many see the work of Dunn and his contemporaries as juvenile, disgusting, and reprehensible, (and they aren't really wrong per se) but it is often easy to forget that during a period where we are constantly inundated with news of economic instability, an increasing level of global conflict, and wall-to-wall coverage of pop culture schlock, Dunn entertained us and gave us the chance to forget our problems, and learn that life can sometimes be whittled down to the simplicity of hurling yourself from a speeding shopping cart just for the sheer fun if it.
While the choices that Dunn may or may not have made the night of his death cast an alarmingly poignant shadow, it cannot be denied that he never let convention or the socially acceptable path dictate his actions.
His death, while not something to be glorified, expressed his overall philosophy toward life and it can be said in the truest sense:
Ryan Dunn died as he had lived.