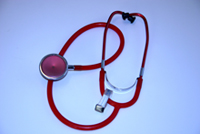 More men are choosing to major in nursing at OCCC, part of an emerging national trend.
According to the U.S Bureau of Labor statistics, in 1992 about 4 percent of registered nurses were men. Today the number reaches almost 6 percent and is predicted to keep rising.
Grady Memorial Hospital Orientation Leader Brad Warden said he has seen an increase in male nurses working in the field over the last couple of decades.
"Overall I'd say the male nursing staff has definitely increased and has been at a steady incline since the early days of nursing," Warden said.
Director of Nursing Deborah Myers said of the 368 students in OCCC's registered nursing program, 74 are men. That's 20 percent of the total.
Myers said men are attracted to the nursing field for a number of reasons.
"Abundant job opportunities, good salaries, and the opportunity to make a difference in people's lives appeal to men," Myers said.
Pay is another reason. On average a registered nurse in Oklahoma will make $67,000 annually. Job availability is another.
By 2020, more than one million jobs are predicted to be available for registered nurses across the country, according to the Bureau of Health Professions' Supply versus Demand Projections for FTE Registered Nurses.
Corey Matzkanin is one of OCCC's male nursing students. Matzkanin is now in his third semester and anticipates a registered nursing degree upon graduation in December 2012.
A former restaurant chef, Matzkanin went back to school for nursing in 2009.
"It is always different and interesting," he said. "I also like that it takes on a more technical side."
OCCC's nursing students are required to complete clinical assignments, shadowing a nurse and helping him or her through their daily work.
Grady Memorial Hospital is one of several hospitals that host an educational, hands-on learning program where OCCC nursing students can gain experience while shadowing a nurse on staff.
Nursing students, male or female, are up for challenging course work, said Chandler Boettcher, registered nurse at Grady Memorial Hospital.
"Throughout the semester students will go to the clinics once a week and follow a nurse," Boettcher said. "With a nurse's supervision, the students preform daily tasks and routines that mimic what they will be facing in a typical day as a RN."
Clinicals are among the most memorable experiences for nursing students, especially for Matzkanin.
"The first clinical was the most memorable and nerve racking for me, but it really showed me how nice everyone is," Matzkanin said.
As Matzkanin comes closer to graduation, he said he feels confident about his abilities in nursing.
"I think everyone is nervous but our orientation process is long enough we should all be fine."
To contact Mollie Hawkins, email onlineeditor@occc.edu.