Ghost Lake "Blame Me"
Summary:
Great new indie rock.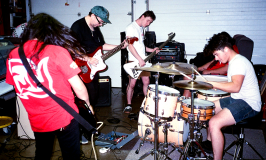 Music is a huge part of my life. I listen to music at work, in the car, at home and especially on the toilet — not because the music is crappy, but because I don't like doing nothing.
My music tastes are not what the average person would call conventional. Pop music? To me, that's more like poop music. It sucks. Sure it's hard to write a catchy song, but it is possible to be both catchy and talented. So many famous songwriters these days are not very talented musicians.
So when my friends' band Ghost Lake released their new single "Blame Me," I was excited. Finally, some catchy tunes from talented musicians. And I have to say, this new single really puts pop musicians to shame.
When they posted "Blame Me" on Bandcamp, I quickly plugged in my headphones and prepared to rock out to a song that would be number one in my heart, not number two.
The song began with a slow, melodic guitar lead over guitar chords and soothing drums. Then the drums got faster and rang out like the sound of a toilet seat being slammed, leading into the faster verse and the introduction of vocals.
The soothing harmonies of the vocals, to go with the great melody led by the guitars and bass, and the rhythm kept by the booming drums really got my head bobbing. I can only imagine this song winning trophies shinier than the inside of a freshly bleached toilet bowl.
My favorite part of the song is the outro. It has an outstanding, groovy rhythm and as the last note of the guitar lead plays, it leaves the listener more satisfied than getting it all on the first wipe.
On a serious note, my friends in Ghost Lake have worked really hard to write a great new full-length album.
If you are into alternative rock, grunge, and indie rock, then I think their music may be for you. You can find their music on www.ghostlakeokc.bandcamp.com.