Get set for gripping final chapter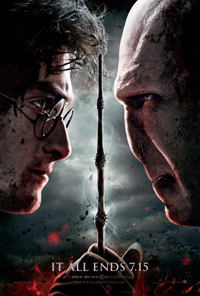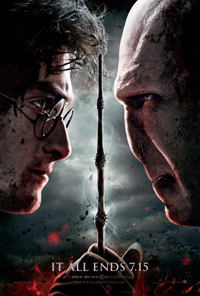 On Thursday, July 14, fans waited in line for several hours, braving the heat, to see the last episode in the Harry Potter series, "The Deathly Hallows: Part 2."
It was almost midnight and young people were dressed in costume celebrating their favorite character from the volumes at Hogwarts.
There were many cell phone games being played, calls to friends who were not able to attend and much chatter about the events of the day.
But when everyone was seated in the theater, the lights went down and when the familar music began the room went from relieved applause to absolute quiet, and remained that way for much of the next two hours.
For many, this movie marks the end of an era. For 10 years, these fans have grown up with the H.P. franchise, and "Deathly Hallows" is like a rite of passage for them as well as for Harry and his friends.
The $43.5 million brought in by the midnight shows proves the popularity of the franchise.
As to the movie itself, expect a wild ride. From the opening scene where Harry buries Dobby in the garden of Shell cottage to the closing shot (not telling), the storyline, action and graphics keep the viewer on the edge of his/her seat.
There is no reason to dwell on the acting ability of the cast, because after eight movies, the players have that mastered and prove it once again in this film.
Perhaps it was the 3D glasses, the amazing special effects, or the love for the characters that pulled the audience into the story. The combination was as magical as Harry himself.
With a character worth $7.4 billion — yes that's a "b" — it's difficult to believe this is the swan song of the dynamic trio.
Warner Brothers Studios said it is the "highest grossing franchise in movie history."
The final movie, may not necessarily be the end of the world for Potter devotees.
"Harry Potter and the Deathly Hallows: Part 2" may mark the end of this series, but the saga will remain in the hearts and minds of fans forever, and may spur interest in the books and DVDs to a whole new, or older, generation.
J.K. Rowlings is a smart, talented and extremely rich woman. Don't rule out another series.
Rating: A+