Gay Pride festivities longer, earlier in 2012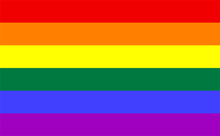 The 25th anniversary of OKC Pride is going to see a few changes, said Josh Sauer, OKC Pride vice president.
"We had a lot of different patrons and volunteers develop symptoms of heat exposure," Sauer said.
"We sent several folks to the hospital," he said.
"And that was a trend that didn't look like it was going away any time soon, and so we decided to move the dates one month early, to May."
Specifically May 18 through 27, Sauer said, and with the additional change of a Pride week, instead of the usual weekend.
Another change is the venue of the festival, which has been changed from the park down by 39th and Penn to the new Film Row downtown at Sheridan and Lee.
2012 Pride Week Events
Thursday, May 17 : Eat a burger at any S&B Burger Joint. 10 percent of all total-day sales benefit OKC Pride. 7:30 p.m. Oklahoma City Museum of Art. Screening of LGBT film "Wish Me Away"
Friday, May 18: Outdoor Movie at Sheridan and Lee (Film Row). "The Sons of Tennessee Williams" will be screened at 8:30 p.m. in the parking lot at 614 W. Sheridan Ave. in downtown OKC. Presented by producer/director Tim Wolff and special guest Albert Carey.
Saturday, May 19: Festival, 11 a.m. to 10 p.m. on Film Row in downtown OKC. Other Options Fashion Show – 7 to 9 p.m. with a $50 admission.
Sunday, May 20: Parade, 6 p.m. Step-off, traditional route. Grandstand near 39th & Penn.
Monday, May 21: Wear Purple Day – Bring awareness to the bullying of youth.
Wednesday, May 23: PFLAG of Norman/Church of the Open Arms/Cimarron Alliance Film Night – A free viewing of "Fish Can't Fly" at Church of the Open Arms, at 3131 N. Penn starting at 7 p.m. Free light snacks.
Friday, May 25: Various club events on The Strip & "Wear Pink Day" – From the original rainbow flag; "Remembering where it all began; a symbol of gay pride."
Saturday, May 26 and 27: Great Plains Rodeo presented by O.G.R.A. at State Fairgrounds.
OKC Pride's recent website makeover makes an abundance of Pride Week and organizational information easily accessible. Visit OKCPride.org for the latest updates on Pride Week and to learn how to get involved.
"We felt that Film Row would be a great venue to hold the festival in.
"It's fresh, exciting, lots of open space for vendors and families. This is our 25th year and we want to try and showcase the local community," Sauer said.
To that end, he said, Pride is partnering with a number of local outreach and event groups in the Oklahoma gay community.
According to a press release provided by Sauer, "OKC Pride has partnerships with the Oklahoma Gay Rodeo Association; Parents, Families and Friends of Lesbians and Gays of Norman; Cimarron Alliance; and Church of the Open Arms."
At first, the rodeo planners voiced complaints that Pride was falling too close to the OGRA's annual rodeo.
"But what they overlook is that we're not competing with the OGRA," Sauer said.
"We're working with them. The festival and parade lead off Pride Week, and the rodeo ends it on a high note."
Sauer said that among the events lined up that excite him is the outdoor screening of "The Sons of Tennessee Williams," a film about "the all-gay Mardi Gras krewes of New Orleans" which will be presented by the film's producer and director, Tim Wolff.
But one of the great things about Pride this year is the anniversary, Sauer said.
"We've been here doing this for a quarter of a century now." he said.
For more information, go to http://okcpride.org.
To contact Jeremy Cloud, email editor@occc.edu.