Garage sale, silent auction benefits students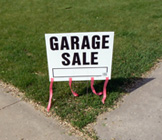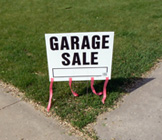 The Faculty Association Scholarship Committee is hosting a garage sale and silent auction from 8 a.m. to 5 p.m. Thursday and Friday, Oct. 6 and 7, in College Union 1, 2 and 3.
Items available through the silent auction include a Gucci purse, Bowflex fitness machine, antique wine glasses, assorted themed gift baskets and a wireless pet containment system.
Bargain hunters can browse through a variety of electronics, sports equipment, antiques, furniture, books, clothing, household decorator items and more.
Second day sales will be half price or best offer, said Librarian Linda Boatright, scholarship committee member.
Any remaining items will be donated to Habitat for Humanity.
All proceeds from the sale benefit student scholarships.
"Students can use the money for whatever they need," Boatright said.
More than a dozen scholarships ranging from $200 to $300 were awarded last semester, said history Professor Jeffrey Carlisle, scholarship committee chairman.
"The faculty is very supportive," Carlisle said. "It all goes back to the students."
To contact Alisha Davidson, email onlineeditor@occc.edu.