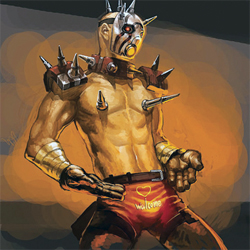 "Borderlands" might have come out in 2009, but like older women, older games have a certain appeal to them.
"Borderlands" is a sci-fi shooter that has taken several things from "World of Warcraft."
The list is quite expansive, actually. One of the borrowed concepts is the talent sheet, which modifies your abilities and gives you new ones.
Another is the actual use of quests in a shooter, which is quite novel.
But I'm not here to talk about the original version of the game.
Notice how I made a simile between older games and older women.
The concept holds true. This old gal got a boob job with the latest expansion, "Claptrap's New Robot Revolution."
Claptraps, or their industrial name CL4P-TP, have started taking over the planet of Pandora.
Their illustrious leader, the Interplanetary Ninja Assassin (the first claptrap you saw in the original game) started reprograming all of the claptraps that he saw.
Now, they are one of your newest enemies.
Some of them explode (kamikaze claptraps), while some of them will melee exclusively (stabby Claptraps).
There are a lot of various claptrap related monsters as well.
They have apparently taken a page from the borg and have started to revive old enemies and convert them to the cause by force.
Implanted chips and cybernetics make the monsters a bit more challenging, though the boss fights are hilarious.
General Knoxx keeps egging you on while you kill him — again.
You fight all the old big bosses, save for the destroyer of the original and crawmarax from the third downloadable content pack.
Although you have to kill them twice in this pack, for a grand total of three times, the commentary from the bosses themselves is very amusing.
I found the pack to be worth the money even if I got them all from the game of the year edition.
I paid $35 for a used copy, but I think getting it new would be worth it, especially since you gain access to the "Duke Nukem Forever" early access club.
Overall, I give the entire series an A+, but the Robolution is great by itself.
If you like shooters and/or "World of Warcraft," I would suggest you buy this game.
This game is rated M for blood and gore, intense violence, mature humor, and strong language by the ESRB.
However, I would give it a rating of K for kick-ass.
Rating: A+