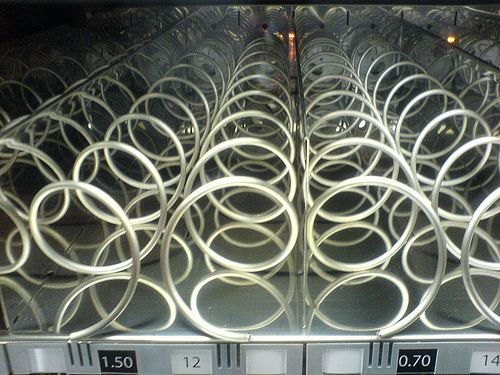 For OCCC students seeking health-conscious snack options while on campus, a new vending machine that dispenses fresh food was installed in the General Dining Area Feb. 25, said Financial Accounting Director Brenda Carpenter.
Carpenter said the new machine dispenses fresh food and beverages, including deli sandwiches, hamburgers and milk.
"We have healthy selections in there," she said. "We have milk, fresh fruit, fresh vegetables, sandwiches … .
"It'll be available 24 hours a day."
Carpenter said the new vending machine accepts both cash and credit cards to make it convenient for evening students.
"We're going to track the sales on it and see how it goes," she said.
She said students should see the machine for what it is — a convenience.
"Vending machines are what they are," she said. "They dispense things in a hurry …
She said the sandwiches in the machine run around $3.50.
"We try to keep the prices in line with what would be charged in the cafeteria or in the bookstore.
" … Anything out of a vending machine is going to cost you more.
"We try to keep our prices competitive."
Carpenter said this isn't the first time a fresh food vending machine has been available.
"My concern was that we had a fresh food machine once before, and we had problems with the food getting stale and old in it … so we had it removed," she said.
"We're giving it another try since we received complaints about nothing being available in the evening." Carpenter said the vending machines that were already available have healthy food.
"We got a negative rating on our [current] vending machines, which I totally disagree with," Carpenter said.
"There are healthy selections in those vending machines … you don't have to buy the high fat chips or the high sugar candy … you can buy a granola bar."
She said she worked together with Consolidated, OCCC's third-party food vendor, and Imperial, a local vending machine company, to have the fresh-food machine installed in the College Union.
"The problem with a fresh food machine is, of course, the fresh food," Carpenter said.
"The food is actually made … in kitchens and they'll keep an eye on it to make sure it stays fresh."
She said the new vending machine will be serviced frequently to ensure the freshness of the food.
Carpenter said it's important that OCCC students take advantage of the new vending machine because otherwise it will be removed.
For more information, contact Carpenter at 405-682-7367 or email her at bcarpenter@occc.edu.