Former student inspired to change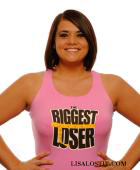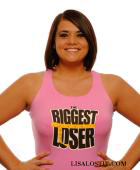 Courtesy lisalostit.com
Lisa Mosely
Last year former OCCC student Lisa Mosley began a weight-loss journey that would change her life. Mosley talked about this journey with a group of students at OCCC on Oct. 6.
Mosley was on campus to introduce her friend Danny Cahill, who lost more than half his body weight during season eight of the television reality show "The Biggest Loser." His speech topic was "Committing to a Healthier Life."
Mosley's story is equally as interesting and it too involves being a contestant on "The Biggest Loser."
She said the first reality she had to confront was that her weight problem had its origin in her own decisions. She said she told herself: "Lisa, you did this to yourself one bite at a time; every bite counts," as she sat crossed-legged on top of a table.
This was an excerpt from her video diary at the beginning of her journey on the reality show.
The first step in Mosley's journey was as candidate number 800 in a seven-hour line to go before the Biggest Loser panel.
"I think our first test was to stand in line for a long period of time without chairs," Mosley said.
Once she reached the panel, Mosley told them her reason for wanting to join the show, which was that her 12-year-old daughter had suffered from temporary blindness.
Her daughter had stopped eating or drinking because she didn't want to be fat like her mom, Mosley said.
After receiving fluids the youngster was fine.
Mosley hadn't realized how much her eating habits were actually affecting her family.
"That was heartbreaking because, just as a person in general, you don't think your weight affects anybody but yourself. You think it's my joints, it's my heart, it's my brain, all of it's me that it affects," Mosley said.
After more interviews Mosley was offered a place on the show.
"I was so excited because I was going to get to change my life," Mosley said. "I was waiting for that external thing to happen to change me internally and this was it."
As Mosley talked about being on the show, she focused more on the emotional and mental aspects of the experience than the physical demands.
"The physical part is a cake walk in comparison to what you go through emotionally and mentally," Mosley said.
Within six months on the show, three months at the ranch and three months at home, Mosley lost a total of 97 pounds.
Now about a year later, Mosley and her family are working hard to live healthy lifestyles.
"There are a couple of things I do that save my life every day," Mosley said.
Mosley drinks Body by Vi shakes for breakfast and lunch, eats healthy snacks in-between, practices portion control, stays away from soda and grains, and continues to exercise.
The key to exercising is "find[ing] something you enjoy doing," Mosley said, which she has done.
Mosley leads an exercise boot camp at Irving Middle School in Norman from 5:30 to 6:30 a.m. on Mondays, Wednesdays and Fridays.
Visit her website www.lisalostit.com to sign up for classes.
To contact Mackenzie Mann,
email onlineeditor@occc.edu