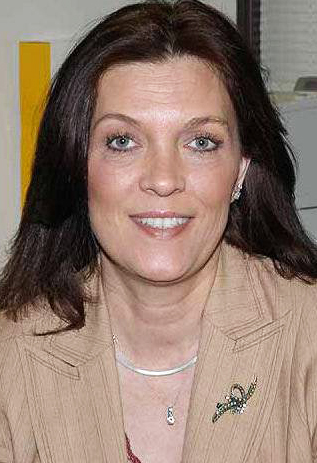 Former OCCC Bursar Brandi Henson, 49, pled guilty Aug. 16 in a federal court to wire fraud in connection with embezzling nearly $400,000 from OCCC between 2004 and 2011, according to a court document [1] filed July 10 with the U.S. District Court for the Western District of Oklahoma. Henson resigned her position on Sept. 30, 2011. At that time, she was making $60,000 a year, according to the college's Staffing Plan.
The Yukon resident, hired at OCCC in 1990, was promoted to the position of bursar in 2003 where, according to the court document, she had access to the school's PayPal account, "a company that allowed users to create and maintain financial accounts for the purpose of transferring money over the Internet."
Henson has admitted to using that account to post refunds and credits to her personal credit cards over a seven-year period, according to court papers. OCCC President Paul Sechrist explained in an email to the Pioneer how Henson was able to take the money.
He said Henson would randomly select an actual refund due a student through his or her HigherOne account and, after refunding the student, would then duplicate the refund to herself using OCCC's accounting system. Then, Henson would direct that refund to her personal credit card. Henson managed the college's PayPal account.
Henson's suspicious actions date back to 2011
The Pioneer reported on Sept. 2, 2011, that Bursar Brandi Henson had been placed on "indefinite administrative leave." At that time Media Relations Coordinator Cordell Jordan told the Pioneer he didn't know the reason. "We haven't been told why Ms. Henson is on leave or for how long but we do know she is still an employee of the college."
In late November the Pioneer was told Henson was placed on leave after the discovery of the unauthorized transactions and subsequently resigned.
In December 2011, Jordan told the Pioneer that on Aug. 20, 2011, the FBI began looking into the suspicious charges made with the Bursar's Office credit card after college authorities alerted them. Court documents show that "on or about May 23, 2011 … Henson caused an interstate wire communication to be sent from Oklahoma to a PayPal server outside Oklahoma, directing PayPal to transfer $1,879.64 in OCCC funds to Chase Bank as a refund on Henson's personal credit card." It goes on to say that Henson "paid off more than $398,000 of her personal credit card expenses with OCCC refunds paid to her credit cards."
A financial audit was performed by Hinkle & Co. with a report issued on Nov. 21, 2011. A Pioneer story, dated Dec. 2, 2011, shows the audit came back "clean." At that time, Sechrist said a clean audit did not mean there is no wrongdoing.
"A clean audit simply means the paperwork we have and the documentation we have of the financial holdings and transactions made by the college is an accurate view of the college's actual financial state,"
The audit, presented to college regents on Nov. 21, 2011, stated the college did not have a procedure for balancing the Bursar's Office credit card on a monthly basis nor were balance reports reviewed by anyone outside the Bursar's Office.
Although the audit recommended implementing policies on both counts, it did not include specific suggestions for improving internal controls.
In March of this year Sechrist told the Pioneer that a system had been implemented to prevent future occurrences of this type.
"The credit card accounts are reconciled more frequently and by additional staff outside the Bursar's office," he said.
According to the college's website, all student refunds from dropping a class, financial aid overages, or tuition overpayment go through their HigherOne account. Every student is given a debit card upon enrolling at the college.
Sechrist said no student lost money in the scheme. "With regards to student accounts, all students received the full amount of their refunds," Sechrist said.
Even so, he said, the college has been adversely affected. "Any loss is regretful, but the amount of this loss is particularly grievous," Sechrist said. "As president, a taxpayer and a citizen that cares about our community, the loss is not trivial; it is a significant loss.
"I am, however, grateful that the losses through these improper transactions were discovered and stopped," he said. Sechrist also praised the current personnel in the Bursar's Office for their performance during the challenging circumstances.
"Other than the sentencing of Ms. Henson … this plea provides a measure of closure to this issue for OCCC," Sechrist said in his email.
After the incident last year, Cynthia Gary was named interim bursar and received the full title last September.
Henson faces up to 20 years in federal prison and a $250,000 fine. Court documents show Henson also will have to pay restitution to OCCC in the full amount of $398,315.12.
Bob Troester, Western District of Oklahoma U.S. Attorney's Office spokesman, said the court will now proceed with figuring out a way for Henson to pay back the money she embezzled. "As is every federal case, during the sentencing, it is turned back to the FBI and a payment plan is put into place after reviewing all of the perpetrator's assets," Troester said. He said there are collection methods put into place and each case is given a certain method which best suits the individual's situation.
"Sometimes they can pay the full restitution prior to the sentencing and the judge takes that into account," Troester said. "There are prison jobs each prisoner receives and that money can be collected by the FBI. The FBI also has full access to take any tax refunds given back to the perpetrator by the IRS.
"We continue to collect what is ordered by the court as restitution to pay back the victim until the perpetrator has no more means of assets for any reason," he said.
Troester said Henson was released on a $5,000 court issued bond from the U.S. Marshal's Office the same day she entered her guilty plea.
Formal sentencing will be set in about 90 days, he said.
"There has been no sentencing date set as of yet because of the processes the Federal Probation Office must go through."
Troester said the Federal Probation Office must review every aspect involved in the case and organize a Presentence Report. Then everyone involved — such as the prosecutor, defense attorney, judge — must review that report.
"Once reviewed and if there are any problems with the report, the people involved may make redactions … .
"This is why it can take up to 90 days for the sentencing date to be set," Troester said.
Troester said the U.S. Attorney's Office and the FBI, " … want to make sure [OCCC] gets their money back."
In the meantime, OCCC employees are wondering if the embezzlement will affect college operations or budgets. Sechrist said that won't happen.
"Questions have been raised as to whether the loss will require cutbacks in budgets — and that answer is no," Sechrist said. "The losses occurred in previous years and have already been realized in previous budgets. But let me say again, from the beginning as the total amount of the loss was revealed, I found the total amount staggering and grievous."
Follow updates of this story and see related documents at the Pioneer Online at www.occc.edu/pioneer.
To contact Sarah Hussain, email editor@occc.edu.
To contact Mitchell Richards, email seniorwriter@occc.edu.