Former Iran hostage recounts his ordeal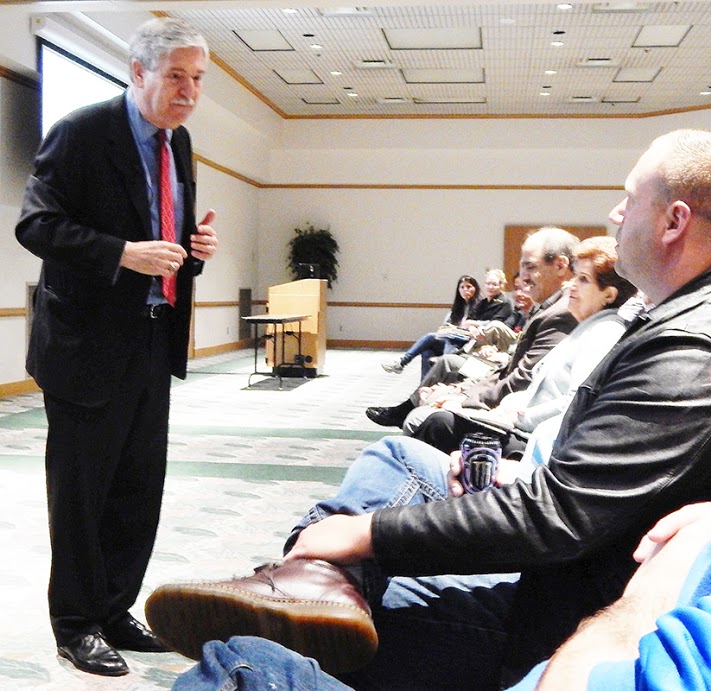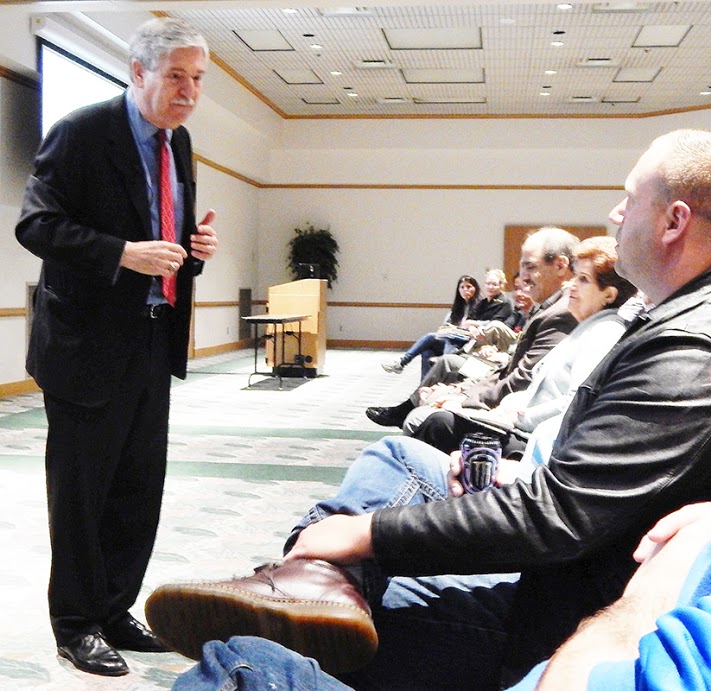 More than 200 students, faculty and guests gathered in the College Union Nov. 5 to hear U.S. Ambassador John Limbert recount a time four decades ago when he was held hostage for 444 days.
Limbert, who served for 34 years in the U.S. Foreign Service, was taken hostage in Iran in 1979 when the U.S. embassy in Tehran was overrun by Iranian students.
Limbert's presentation, which ran more than an hour, covered such topics as the current relationship between the U.S. and Iran, and the history leading up to the strained climate that led to the hostage situation in 1979.
Limbert was interactive, with an open forum that allowed the audience to ask questions.
He began the lecture by talking about the turbulent history between the U.S. and Iran that dates to the fall of the Shah in 1979, noting that the relationship has begun to improve in the recent past. Limbert described this as the "thawing of a deep freeze that perhaps, only now, after 34 years … appears to be changing.
"But 34 years is a long time," he said.
"What people ask me is 'why? What is it about the U.S. and Iran that has created this long estrangement? Why are the two sides not able to talk?'" Limbert said, and then answered, "I don't know."
Limbert said he poses this question to students at the Naval Academy where he teaches courses.
"The answers I get are …full of insight and full of good knowledge, but if we're going to go at the question, we have to start with history."
Limbert framed the scene of Iran in the late 1970s, when after years of prosperity and stability, the Iranian Shah was displaced and the country fell into "post-revolutionary" chaos, with power in the hands of a religious government.
Soon after, Limbert said, the U.S. provided aid to the former Shah and allowed him to enter the country despite warnings from the U.S. embassy in Tehran that doing so would likely have ill-effect on those overseas.
True to the predictions of the embassy workers, the U.S. embassy in Tehran was overrun on Nov. 4, 1979, by Iranian students.
Fifty-two Americans, including Limbert, were captured and held hostage.
What followed was 14 months of imprisonment, during which Limbert said, he was treated very poorly, interrogated and threatened frequently. Limbert said he spent more than half of his imprisonment in solitary confinement.
One student asked if Limbert, who served as the Deputy Assistant Secretary responsible for Iranian affairs from 2009-2010, if he believed that Iran's recent efforts to cooperate and communicate with the U.S. were genuine, or if they were a ploy with some ulterior motive.
"In our business of diplomacy, we don't deal so much with motives," Limbert said.
"We deal much more with what someone does — what are they willing to do? Are they willing to … ease up on human rights? Are they willing to stop backing groups who have terrorist ties? Are they willing to make compromises on their nuclear programs?
"At the end of the day [the motive doesn't matter]. What matters is if they really believe in something and they're really willing to carry it out."
Limbert, who currently teaches courses in history and political science at the U.S. Naval Academy, has received the Distinguished Service Award, the Department of State's highest award, and the department's Award for Valor after his imprisonment in Iran.