Food drive collects donations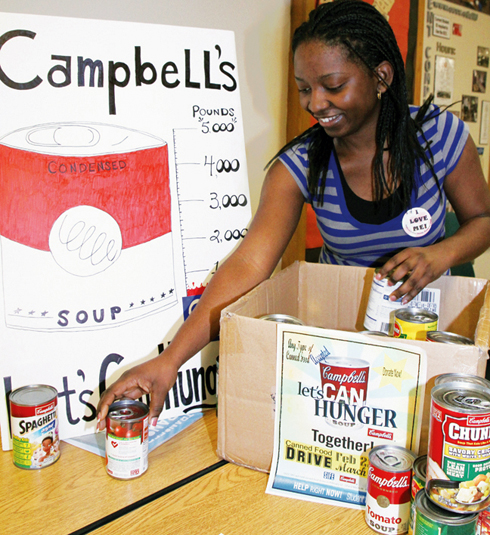 Rachel Morrison/Pioneer
Business major and SIFE (Students in Free Enterprise) Vice President Manuela Nkwinkwa organizes canned donations during the organization's canned food drive February 24 just outside the student Union.
Students in Free Enterprise is collecting canned goods and monetary donations through April 18 for the Let's Can Hunger challenge sponsored by Campbell Soup Company, said Kody Payne, Students in Free Enterprise president.
"SIFE is partnering with Campbell Soup Company in order to fight hunger across the nation," Payne said.
"With this challenge, we've pledged to raise 5,000 pounds."
The first food drive to benefit local food banks in Oklahoma City was held Feb. 22 and 23 in the Main Building across from the Communications Lab.
Students who wanted to donate were able leave their canned goods at a table set up there.
Students who missed the first drive and still want to contribute can bring their canned goods to the Business division office in 2N2 in the Main Building.
Payne said monetary donations also are being accepted. Those can be dropped off with Kristi Fields in the business division office or turned into any SIFE officer.
"One dollar equals one pound of food," she said.
Payne said SIFE also is working on a clothes closet for low-income students who need business attire to wear to job interviews.
"We do have clothes right now," Payne said. "They're in storage. We're working on a location."
Matthew Crofford, vice president of recruitment with SIFE, said the clothes closet and food drive are coordinated to maximize the help given.
"[The clothes closet] goes with our Campbell's food drive," he said.
"It helps people get jobs so they can better take care of themselves and feed themselves,"
Payne said SIFE will hold another food drive from 10 a.m. to 4 p.m. on Tuesday, March 8, and Wednesday, March 9, in the Main Building near the Student Union.
For more information about the Let's Can Hunger Challenge, visit www.letscanhunger.com. For more information about SIFE, visit the Student Life homepage at www.occc.edu/studentlife.