Flag football season gets under way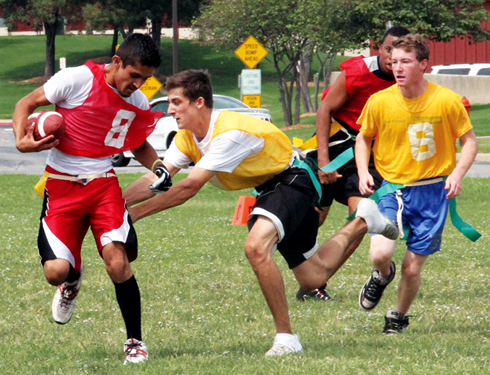 Rachel Morrison/Pioneer
Thunder flag football player Ben Roberts, middle, attempts to stop a Smash Brothers runner by pulling his flag. Derek Malone, right, keeps pursuit on the play. Flag football games are played every Friday on the OCCC soccer field, located on the southeast edge of campus.
The Thunder rolled over the Smash Brothers 22-6 in the opening flag football game of the season on campus Sept. 17.
But the game didn't start out as a runaway.
In the heat of an Oklahoma summer day, the two teams took the field on the southeast edge of campus in hopes of starting the season off on the right foot.
That hope seemed to fade quickly for the Thunder as they threw an interception on their opening drive.
However, the Smash Brothers were unable to capitalize on the mistake as they started a pattern of offensive ineptitude.
Both teams had a combined four consecutive drives that resulted in three-and-outs.
Right before halftime, the Smash Brothers were able to provide an offensive spark as they put the first points on the board. On fourth down at midfield, Nicko Nix hauled in a 40-yard pass to put the Smash Brothers up 6-0.
This would be a story of two halves, as the Thunder took advantage of the break to make adjustments that would lead to a comeback.
One of the standouts of the game, Derek Malone, said the intermission helped his team tremendously.
"The beginning of the game was tough, but after halftime we got together as a team and figured it out," Malone said.
In the third quarter, quarterback Jeremy Carolina found Malone in the end zone to give the Thunder their first score of the game. The following two-point conversion gave them the lead, 8-6.
The Thunder defense proved to be the decisive factor, as the Smash Brothers weren't allowed to move the ball in the second half.
After a key interception by defensive back Ben Roberts, the Thunder went up by 14-6 following another touchdown throw by Carolina.
In the fourth quarter, the Smash Brothers were driving the field in hopes of an equalizer. Yet playmaker Malone helped put the game away for his team as he picked off an errant throw deep down field.
Nix said his team needs to learn how to hold on to a lead.
"We started with the early lead, but we just have to finish strong and hold on to it next time," Nix said.
Carolina completed a hat trick for the day, throwing his third touchdown in the waning seconds of the game, cementing a Thunder victory, 22-6.
"We're feeling great about the rest of the season," Carolina said.
"We didn't even practice for this game and we came out with the victory, so we're definitely feeling good."
The Thunder now look forward to playing the Spartans in Week 2 on Friday, Sept. 24.