Flag football league slow to form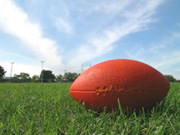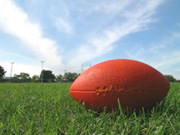 A transition to online registration may be the cause for a decrease in team enrollment for OCCC's intramural flag football league.
A consistent and popular fixture for OCCC's Intramural sports program, Flag Football registration for the fall season has fallen short of what was expected for the semester with only four teams being formed.
Wellness Center attendant Alex Savage said he believes that one of the reasons lies in the change to a predominantly online registration process that only a few students seem to be aware of.
"We use to have a sign-up sheet at the Wellness Center desk where students could just sign their names," Savage said.
"Now they have to go to an intramural league website and register a profile to form a team."
IMLeagues.com, the website OCCC uses to organize intramural sports, is a national service that includes colleges such as The University of Central Oklahoma, Wake Forest University and Ole Miss among others and is a hub for registration, scheduling and record keeping for most collegiate intramural sports.
"Not a lot of students know about the website," Savage said.
"Some students I talk to that do know about [the website] think it is too much of a hassle and they decided not to form a team."
OCCC Sports and Recreation Specialist Eric Watson said the college's use of the web service is still in a trial phase and that the evaluation of whether to continue using the service is ongoing.
"We're going to see how it does over the semester and decide from there if it's something we'll continue using," he said.
Watson said that the current number of registered teams stands at four.
In an attempt to boost the number of teams, they are now accepting completed paper registration forms as well as the online enrollment in order to prepare for the fall season.
"We'd like to see six teams form and any number above that is an added bonus," Watson said.
Registration is ongoing and any students who may be interested in forming a team for the coming flag football season may do so by either registering online at www.imleagues.com/schools/occc/registration or by filling out a registration form located at the Wellness Center equipment desk.
Those interested in further registration information can visit the Wellness Center, located just inside entrance WC1 near Parking Lot E, or by calling 405-682-7860 or by going online to www.occc.edu
To contact Sean M. Tolbert,
email sportswriter@occc.edu