Five alumni inducted into Hall of Fame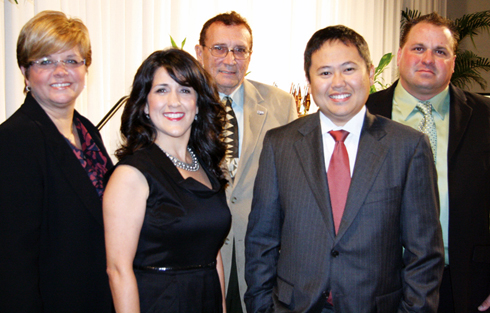 Caleb Barrette/Pioneer
(L to R) Shelley Blakemore, Shannon Calderon Primeau, Romeo Opichka, Lam Nguyen and Chris Snow were honored Oct. 14 at the fifth annual Alumni Hall of Fame banquet. Pat Berryhill, Institutional Advancement executive director, said the Alumni Hall of Fame is "a great way to recognize the alumni of the college."
A business man, a paramedic and a dancer were among five honorees inducted into the OCCC Hall of Fame this year.
The former students were recognized for their accomplishments since graduating from the college in the fifth annual Alumni Hall of Fame banquet on Oct. 14.
Shelley Blakemore, Lam Nguyen, Romeo Opichka, Shannon Calderon Primeau, and Chris Snow were honored at the ceremony, which was held in the Film and Video Production Studio.
Pat Berryhill, Institutional Advancement executive director, said the Alumni Hall of Fame is a fantastic opportunity to honor OCCC alums.
"It's a great way to recognize the alumni of the college," Berryhill said. "It's also nice to hear their stories and understand what makes them so successful."
Blakemore, First Financial Network Human Resources director, earned her associate degree in Liberal Studies from OCCC in 2004. She later went on to graduate from the University of Oklahoma in the same field.
Blakemore said she attributes much of her success to her time at OCCC.
"It gave me the confidence as a student to know that I could walk through any door that was open for me and strive for the most in life," she said.
Nguyen is a commercial sales manager for Cox Communications. After studying at OCCC in 1997, he earned his bachelor's degree, cum laude, from OU.
Nguyen also volunteers for various charities, including Mobile Meals and the Cox Foundation.
"My experience at OCCC was wonderful, thanks in part to the accommodation of the faculty and staff," he said.
"They never give up on you and are always engaged in what you're doing."
Romeo Opichka, retired OCCC Emergency Medical Sciences director, finished his studies in that field at the college in 1979.
He completed his bachelor's degree in Business Administration from the University of Central Oklahoma in 1986.
Opichka later led OCCC's EMS program during the period when it earned national accreditation, Berryhill said.
Primeau achieved her lifelong dream of running her own dance studio after her tenure at OCCC.
Primeau owns Everything Goes Dance Studio in Oklahoma City.
She said the intimacy of the college was an integral part of her later success.
"The staff is always available to you," Primeau said.
"They are very helpful and sincere. For them to even recognize me is amazing in its own right."
Snow serves as Facilities Management assistant director on campus.
Snow, who graduated magna cum laude from UCO in 1999, has received multiple international and local awards in facilities management.
He was awarded the title of Certified Educational Facilities Professional from the Association of Physical Plant Administrators, only one of three to achieve the title internationally.
Snow, too, attributes his accomplishments to his beginnings at OCCC.
"This college gave me a great jump-start on my educational journey," he said. "The college changed my life."
For more information about the Alumni Hall of Fame, visit www.occc.edu.