Finding a summer job made simple for students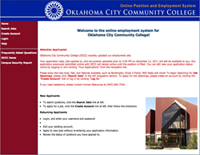 While the closure of the spring semester usually signals a time of relaxation for the following three months, most students will be on the lookout for a way to make some money over the summer.
Debra Vaughn, Director of Student Employment Services, says her office assists students with both on-campus and off-campus job information.
"We have a variety of summer employment resources to share through Student Employment and Career Services," Vaughn said.
The days of submitting numerous applications to fast food eateries may be over with the help of Student Employment and Career Services.
"I recommend that students apply for jobs that correlate with their future career field," Vaughn said.
"Each student has interests, skills, and strengths that attract them to (certain) jobs."
Vaughn said that numerous individual jobs have different requirements for students and that it's best to read each job description carefully.
If students are worried about limitations in the job market for the summer, Vaughn said that there are currently approximately 200 student jobs available.
OCCC student Chantal Shirkey thinks the help OCCC provides could benefit a lot of students.
"Some people can search for a job the entire summer," Shirkey said, "…but with the help of the school, it will allow people to find a summer job much more quickly."
Vaughn said the employment office has dozens of job postings on their bulletin boards and job tables, located on the first floor of the main building in Room 1G7.
An option to assist in the job search, Workforce OKC, is a widely known resource for students.
The Oklahoma Workforce website can be found at www.ok.gov/okworks. There, students can connect with other job seekers and future employers to form Oklahoma's workforce, per their website.
For more information on jobs on campus, contact Debra Vaughn at 405-682-1611, ext. 7519.
To apply for a student position, visit www.occcjobs.com and create an account and get started searching for jobs.
To contact Morgan Beard, email pioneergraphics@occc.edu.