Dunkin' Donuts Coffee
Summary:
The Holy Grail of coffees!
In the film "Kicking & Screaming," Will Ferrell said of coffee, "It's the lifeblood that fuels the dreams of champions."
I could not agree more.
In my previous coffee career, I overdosed on French vanilla creamer to the point of coffee degradation. It was a poor man's cappuccino.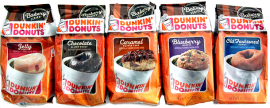 I'm cleaning up my act, though. I have been drinking coffee black or adding only unsweetened almond milk. I've always liked a dark brew, but finding coffee good enough to use minimal extras has proven difficult.
While I've discovered some delicious dark roasts, I have recently found the holy grail of dessert coffees.
Dunkin' Donuts has managed to make coffee, the miracle of mankind, even better.
The chain's variety on the beverage aisle drew my attention with flavors like Pumpkin Spice and Coconut. However, I wanted to make sure they weren't one of those brands that sells weak, tea-colored water so I went to the Edmond store to test out their offerings.
When I walked into Dunkin' Donuts, I was greeted by two workers who sincerely seemed to enjoy their jobs. They were cracking jokes and smiling as they took my order.
I got a blueberry muffin-flavored coffee that was so delicious I didn't need to order anything else. It was smooth, deep and unmistakably muffin-flavored. I was surprised at the dark brew, which was matched by the taste of a fresh-baked, crumble-topped blueberry muffin. I felt like I had indulged in a delicious pastry and I didn't even need to add creamer. The price wasn't bad, either.
I purchased a bag of it to brew at home and I've already had to buy a second bag.
Dunkin' Donuts has a variety of flavors on grocery store shelves, such as Chocolate Glazed Donut, Cinnamon Roll and Caramel Coffee Cake. They run about $8 per bag, which is the price I am willing to pay for a coffee and dessert all in one.
The stuff's so good, I kind of wish I could carry around a gallon of it. Well done, Dunkin' Donuts. Now I want to try them all.
Rating: A+