Film student, comedian shoots documentary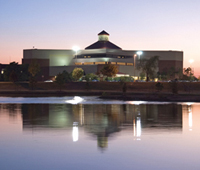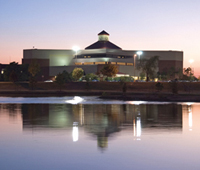 An OCCC film student is currently creating a documentary about stand-up comedians, including himself. He may also have the chance to fulfill a long-time dream.
Gilley Aguilar, 28, said he always wanted to be an actor and comedian while growing up in Lawton. But as many people find out later in life, childhood dreams do not always become a reality.
Aguilar is trying to beat those odds in the documentary he is directing, producing, and starring in called "Jester."
Aguilar said the film began as a 10- to15-minute short for a documentary film class, but he will now carry it over to his required capstone class to develop it into a feature-length documentary.
The documentary will follow Aguilar as he performs stand-up comedy at local open mic nights in preparation for his dream of performing at the Laugh Factory in Los Angeles, one of the nation's primo venues for comedy.
"Jester" originally focused on stand-up comics who suffer from depression, Aguilar said. However, the concept changed once the project got under way.
"Now it is about me getting to relive my dream because I didn't ever get to go to LA like I wanted to," said Aguilar, who is the director of operations at Red Iguana Cinema Productions in Norman. "So this is me getting my one chance to do what I always wanted."
The original concept of comedians suffering from depression serves as an undercurrent in the documentary, Aguilar said. Viewers will see the ups and downs of what comedians go through before and after performing for an audience.
"You don't always make them laugh, so I think that is where the depression comes from," Aguilar said.
The full-length documentary will also feature several other stand-up comedians in various career stages, including Anjelah Johnson of MADtv and Oklahoma native Cady Groves. Johnson is nationally known for her sketch comedy character Bon Qui Qui while Groves is gaining nationwide prominence as a singer-songwriter who incorporates comedy into her concerts.
Interviews with the comedians will parallel Aguilar's journey to perform in Los Angeles as each comedian talks about his or her own pursuit to make it big in comedy. They also will share diverse views on the problem of depression in stand-up comedians.
Aguilar said creating the documentary has positively impacted his experience with comedy.
"It's easier to get up and perform when I know that other comics are going through the same things and have the same fears," he said.
Director of the OCCC Film and Video department Greg Mellott will be the professor of the capstone course.
"The great thing the course has to offer students is a chance to bring in sequences as you build them," Mellott said. "It's a great chance for a filmmaker to see how his or her film is developing."
Mellott said the documentary, which Aguilar expects to finish by the end of the fall semester, is looking good so far.
"He has a good cast of interesting comedians, including himself, that have interesting lives and interesting things to say," Mellott said.
Fellow students Emily Matthews and Mark Johns are working along with Aguilar to create the documentary. Matthews said Aguilar's humor makes him fun to work with.
"He turns everything into a joke, yet he's really professional because he knows what he's doing," she said.
The crew is currently looking to get more big-name comedians involved with the project in order to meet a specific goal, Matthews said.
"We want to take it to every [film] festival we can, which is hard to do," Matthews said.
"I think it can go somewhere because we'll have some really cool comedians in it."
Aguilar can be seen performing stand-up comedy in Oklahoma City during open mic nights at the Loony Bin Comedy Club at 8503 N. Rockwell Rd. and the 51st Street Speakeasy at 1114 NW 51st St.