Fall Carnival Coming to OCCC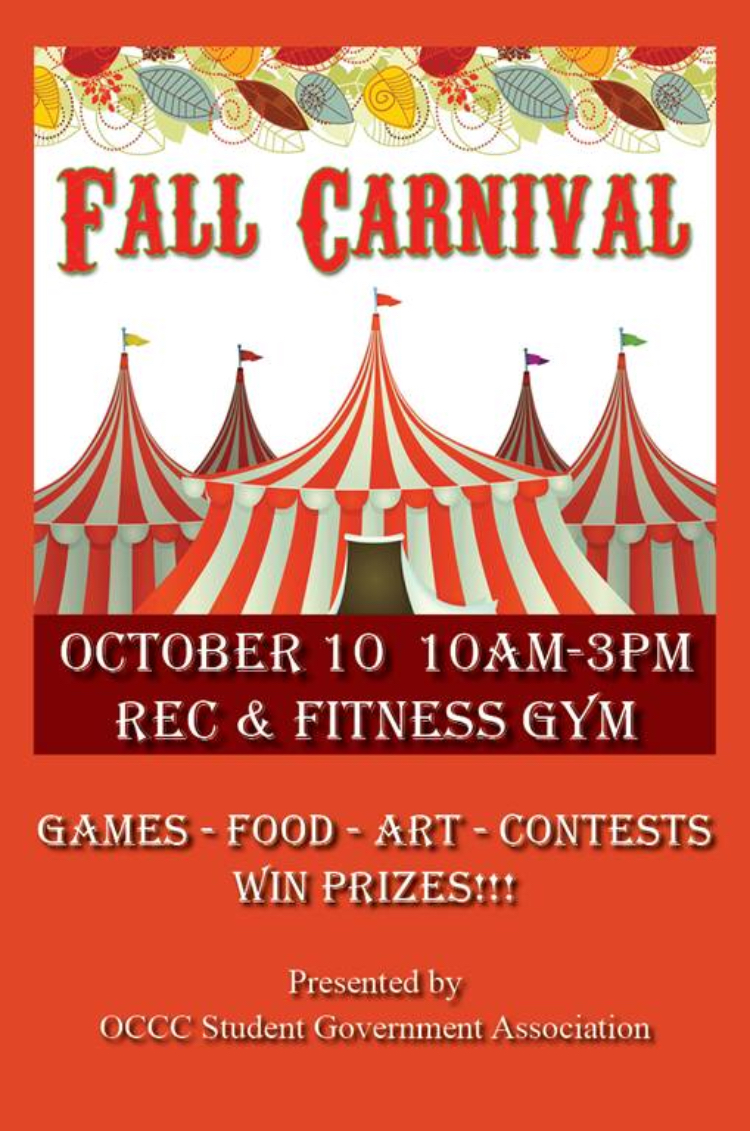 By: John Benson, Staff Writer
The Office of Student Life and the Student Government Association have collaborated to bring the OCCC community this semester's Fall Carnival. The Carnival will allow students and faculty alike the chance to celebrate the arrival of fall with a plethora of activities.
The Carnival will take place on Thursday Oct. 10 from 10 a.m. – 3 p.m at the plaza between the Visual and Performing Arts Center and the Main Building
Randy Cassimus, Director of Student Engagement and Alumni Relations, said games can be played to earn tickets for prizes, such as an oversized stuffed animals.
Cassimus said various OCCC clubs would be providing the games and food found at the Carnival.
The clubs presenting the activities planned for the Carnival are as follows:

The clubs presenting games will be:
· Black Student Association Hip-Hop Cake Walk
· Chi Alpha High Striker
· Baptist Collegiate Ministries Skee Ball
· Acts of Kindness Association Pig Racing
· Artists In the Making Art Sale & Face Painting
· Kappa Beta Delta Corn Hole
· Phi Theta Kappa Ring Toss
The club and organization providing food will be:
· Hispanic Organization to Promote Education Caramel Apples
· Student Life Popcorn & Cotton Candy

The event will also be decorated with hay bales, corn stalks, and pumpkins to bring the essence of fall to the campus.
In the event there is rain on the day of the Fall Carnival, festivities will relocate inside the school gym.
The gym can be located in one of two ways. The first way is by a set of double doors by room 1N7, the second way is through the WC1 entrance and heading straight into the gym.