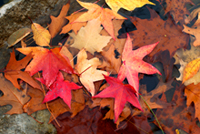 The OCCC campus will be closed Oct. 20 through 23 for fall break, giving students a mini vacation this semester.
There are a variety of activities to do in the Oklahoma City metro area, but some students plan to venture out of state for their vacations.
Kylee Jones, literature major, is heading south.
"I am going to Dallas for fall break," Jones said. "I'm visiting a friend."
One student, Taylor Aldridge, said she's headed to Arkansas for a camping expedition at Eagle Mountain.
Taking a road trip may not be in the cards for everyone. OCCC student Chris Hanna said he is using his time constructively to help others.
"I will be [doing volunteer work] with an agency that deals with children," Hanna said.
Diana Rivera, nursing major, said she's going to take it easy.
"I will be working, doing homework, and trying to relax," she said.
Many OCCC students like Diane Higley, sociology major, are planning on relaxing and staying in the area.
"I'm just going to relax," Higley said .
"I have no particular plans."
To contact Emily Schorr, email seniorwriter@occc.edu.