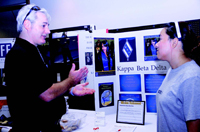 Rachel Morrison/Pioneer
Kappa Beta Delta President Michael Southerland encourages Economics major Carolina Daza to join the business honors club during the Student Organization Fair Aug. 31.
Representatives from OCCC's student clubs and organizations gathered for their semiannual Student Organizations Fair at the end of August. The back wall of the general dining area was lined with booths allowing each club to promote itself and attract new members.
According to many in attendance, the event was quite successful.
"It's been a block buster," said Zack Sumner, business major and representative for the College Republicans and Christ Campus Fellowship.
He said that he was surprised at the turnout, which echoed the sentiment of many other club representatives.
"I would definitely say it's a success," said Candice Parker, music major and representative from the Native American Student Association.
"It's always a success when you get anybody interested in what your club is wanting to accomplish this semester."
Some clubs were only present the final day, such as the Gamer Guild of OCCC, but that did not seem to hurt interest.
"I'm actually very happy with the attention we've attracted," said Mathew Caldwell, game design major and Guild Master for TGG.
"Just only having the one day to get it out there so far, besides the Pioneer advertisement … it's a wonderful turnout right now."
Support services on campus such as Student Life and Trio Student Support Services were also represented and drew attention.
"We have actually given out several applications," said Laura Newton, advisor for Trio. "We also have requested and gotten a lot of information from students so that we can send them more information after the fair is over.
"We are really excited for the opportunity to be at this fair, this year."
Ben King, business major and representative for Baptist Collegiate Ministries, said his club is open to anyone, an acceptance that everyone stewarding a table carried.
Some representatives commented positively about the event as a whole, not just their own experiences.
"It gives the people who are here and representing the organizations to have exposure to the student body and to ask questions," said Heather Pemberton, psychology major, of Phi Theta Kappa honor society, who was assisting the other honors societies.
Chase Parsons, community sponsor for Chi Alpha Christian Fellowship, said the energy of the people signing up mirrored the energy of the club members present.
"Most of the representatives that are excited about their organizations, they put out excitement so they get others excited and being a part," he said.
"If it goes in line with what they are doing in college or a need that they have, then excitement breeds excitement.
"It depends, you kind of throw your net out there and you try to catch people and some people kind of warm up to you."
For more information, contact the Student Life Office at 405-682-7523, or visit www.occc.edu/StudentLife and select the Join-a-Club option from the menu.