Facilities Management employee recognized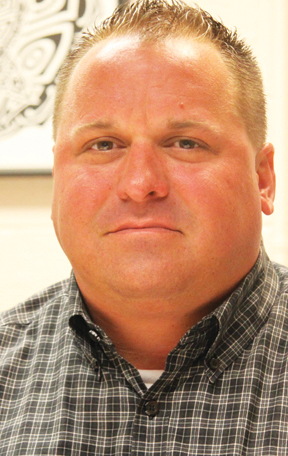 Chris Snow, Facilities Management assistant director, was awarded the Certified Educational Facilities Professional certification from the Association of Physical Plant Administrators on June 2.
APPA International is an organization dedicated to maintaining, protecting and promoting the quality of educational facilities around the world.
Snow, who began the certification program in January 2005, said he joins an elite group with this award.
Only two other members of APPA have achieved this certification, said Snow's boss, Facilities Management Director J.B. Messer.
"I completed eight separate educational tracks which allowed me to take the certification test," he said.
In addition to these tracks, Snow also needed his 23 years of service in facilities management at OCCC and his master's degree in higher education in order to qualify for the test.
"I knew that I had an aggressive approach and method," Snow said, "but I did not find out that I was only one of three until after the award of my credential.
"It's surreal."
Snow has worked in at least four different positions for the college since he started as a Building Services assistant in 1987.
He said Messer has had the largest influence in his career and success.
"My certification achievement would not have been possible without the continued support of my director," Snow said.
"He has been my positive driving force in supporting the credentialing achievement."
Messer had only praise for Snow.
"Snow is proactive," he said.
"I would say that Chris has taken advantage of all the opportunities that have been provided to him by the college over the time frame he has worked here," he said.
Snow said the certification doesn't change his goals at the college.
"My number one goal is to continue to be part of OCCC and work to ensure its vision, mission and goals.
"I enjoy people," he said, "especially the down-to-earth kind.
"In the Facilities profession, it holds a very diverse but humble group of individuals. "
On top of his OCCC duties, Snow is active in the Oklahoma APPA organization.
"I am a business officer that works with two other vice-presidents in support of the president," Snow said.
The presidential turnover is annually, which means Snow will be the president of the Oklahoma APPA region in two years.