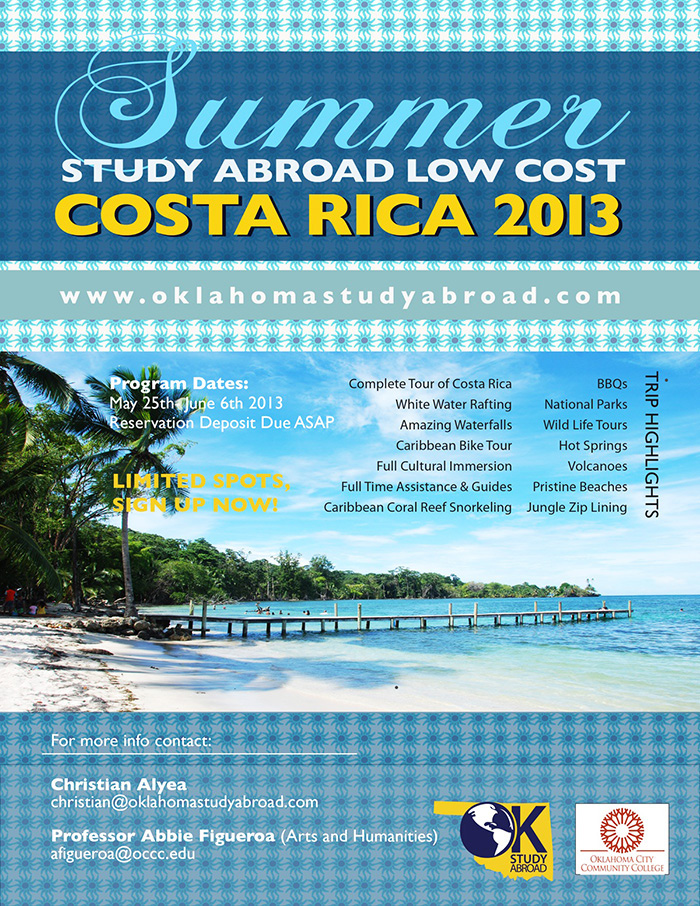 One way to improve Spanish skills is to spend time in a Spanish-speaking country.
OCCC is sponsoring a 13-day trip to Costa Rica in Central America during the May intersession. The trip is from May 25 through June 6. Students will have the chance to explore rainforests, sandy beaches and local markets.
Spanish Professor Abra Figueroa will be teaching the Spanish courses at the beginning or intermediate level.
The travel class is arranged through Oklahoma Study Abroad.
Program Director for Oklahoma Study Abroad Christian Alyea also will be attending.
The first part of the Costa Rica trip starts out on the Pacific coast where students can view pristine beaches and explore jungles, Alyea said.
One of the beaches students will see is Whale Tail beach.
When the tide is down, the beach from the air looks like a whale's tail. Humpback whales also migrate through that area. When the Humpback whales are not migrating through, sea turtles are laying their eggs on the beach.
After a few days on the Pacific coast, the group will then head east across the country to the Caribbean Coast.
Cahuita is a city on the Caribbean coast where students will volunteer a day at the local elementary school. They sponsor an English Is Fun Day where the college students donate children's books in English and soccer balls, in honor of the country's favorite sport.
A 15-mile bicycle ride along the coast is a good way to see local markets and an abundance of wildlife, Alyea said.
Then students will head inland to the village of La Fortuna that was destroyed by Volcano Arenol when it erupted in 1968 and wiped out the farming town. La Fortuna is now a huge eco-tourist hub.
Students will spend three days in La Fortuna hiking to a dormant volcano's crater and swimming in the green lagoon.
White water rafting and forest canopy zip-lining also are offered while staying in La Fortuna.
The Oklahoma Study Abroad program makes sure that traveling is affordable and focuses on full cultural immersion, Alyea said.
The trip to Costa Rica will cost $1,800 and can be paid in three payments. The first payment of $400 is due Dec. 14, the second Jan. 25, and the third is due Feb. 15.
Limited spots are available.
You do not have to have any Spanish background to attend. Anyone who would like to know more about this trip can go to Oklahomastudyabroad.com to sign up.