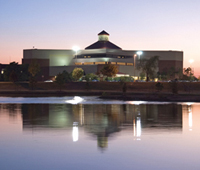 A student expelled from OCCC's physical therapist assistant program filed a lawsuit April 5 in Oklahoma County District Court against OCCC's Board of Regents, Associate Vice President for Academic Affairs Greg Gardner and Physical Therapist Program Director Jennifer Ball.
Student Kaylee Horsch alleges that by removing her from the program, the parties named violated her right to constitutional due process, violated the Americans with Disabilities Act and the Rehabilitation Act of 1973, and committed Breach of Contract.
The Pioneer has been unable to determine when Horsch was removed from the program.
According to a college spokesperson in the Records department, Horsch was withdrawn from her spring courses May 15.
She was also dropped from her summer classes on May 18, and fall classes June 6.
According to information found in the court's original petition filed April 5, 2012, in Oklahoma County District Court, Horsch is seeking reinstatement into OCCC's PTA program, compensatory damages, costs of the lawsuit and "other and further relief as the Court deems appropriate."
That petition can be viewed here.
Kaylee Horsch is the daughter of Debora Horsch, a local physical therapist who owns OKC Physical Therapy South, according to a physical therapy directory.
Kaylee Horsch is a graduate of 2008 Westmoore High School.
She declined comment for this story and attorneys representing both sides have yet to respond to requests for comments.
In an email, Acting Public Relations Director Cordell Jordan said OCCC cannot comment on pending or current litigation involving the college.
Updates will be added to this story as they become available.
To contact Joey Stipek, email staffwriter4@occc.edu.