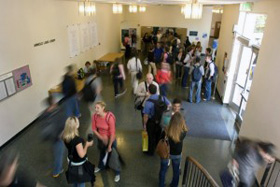 The fall 2011 semester is well under way, and enrollment numbers are holding steady, said Stu Harvey, Planning and Research executive director.
"There was not a significant increase in credit hours for this semester," Harvey said.
Credit-hour enrollment for fall 2011 totaled 130,659, almost exactly the same as last fall, which was 130,619.
Headcount — the number of individual students — shows a small increase at 14,029 for fall 2011, compared to 13, 879 a year ago.
OCCC enrollment has not grown much from the previous fall semester due to a strain on state funding, Harvey said.
"When state resources are constrained, it's difficult to hire full-time faculty, which we have not been able to do for the last few years," Harvey said.
"[An] increase in enrollment is met by adjunct faculty and it is difficult to increase enrollment without full-time faculty."
He said the lower numbers are nothing to worry about. OCCC will always draw new students — for a variety of reasons, Harvey said. One of those is affordability.
"Tuition at OCCC is one of the lowest in the state," Harvey said.
"There (also) are many programs offered like OKC-GO, not to mention concurrent enrollment."
When looking at a breakdown of students currently attending OCCC, some groups have seen an increase while others declined.
The largest minority group of students attending OCCC is African-Americans, making up 11.2 percent of the student population.
The Caucasian population dropped this semester by 1 percent, according to a report from the Office of Institutional Effectiveness.
The report also shows the female student body is significantly larger than the male population.
Women on campus make up 59.6 percent of the students and men make up 39.7 percent.
Most currently-enrolled OCCC students prefer to attend college part-time, the report shows.
The majority of students attending OCCC this semester are between the ages of 18 and 24, according to the OIE report.
The returning student percentage for the fall 2011 semester is 66.6 percent, Harvey said.
The college has reached its capacity during peak hours — between 10 a.m. to 2 p.m., — meaning this time slot is full with the faculty that is available, he said.
For a breakdown of past enrollment, visit www.occc.edu/IE/Statistics/AnnualHeadCount-FTE.pdf.
To contact Emily Schorr, email seniorwriter@occc.edu.