Engineering Club Builds Garden for PTSD Victims, Veterans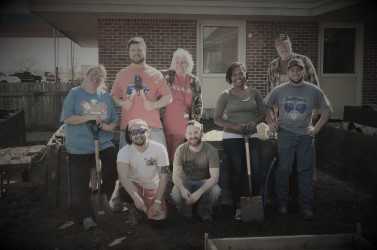 OCCC Engineering Club Director Colby Warden said the club recently partnered with Envision Success to rebuild a community garden in Norman for veterans with post-traumatic stress disorder. Colby said the project was the first of its kind since the supervisor, Gary Houlette, began working at OCCC.
He said Engineering Professor Gary Houlette actually provided the funds to improve the garden. Warden said the idea was his, and when he asked Houlette to join he immediately said yes.
"He has taken charge quite strongly," Warden said. "There have been times when he said 'we're doing it next week, let's start!'" He said he would often get the supplies for the club.
Envision Success, Warden said, was founded initially for convicts, those who are homeless, and people getting out of prison who needed assistance.
"It was for anyone at a low point in life," he said. "I guess a year ago, before I joined the board, they were noticing primarily they were assisting more veterans."
He said it was then the home started to push their main focus on veterans. "It's often difficult for veterans to find which path to go on to get assistance," he said. "It's stressful especially for the older folks needing assistance."
Warden said that's where Envision Success stepped in to cut out the middle men in the re-socialization process including counseling.
Warden said the group of volunteers worked for hours to ensure the gardens PVC pipe for the irrigation was professional and clean for the Veterans or anyone with PTSD, or anxiety. The project is not finished, Warden said the group is hoping to finish by mid April.
[ngg_images source="galleries" container_ids="80″ display_type="photocrati-nextgen_basic_slideshow" gallery_width="600″ gallery_height="400″ cycle_effect="fade" cycle_interval="10″ show_thumbnail_link="0″ thumbnail_link_text="[Show thumbnails]" order_by="sortorder" order_direction="ASC" returns="included" maximum_entity_count="500″]