Employment Services helps students find jobs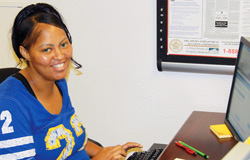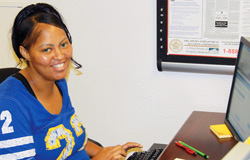 Tonya Parks, child development major, works on perfecting her résumé in the Student Employment and Career Services Center. Student Employment and Career Services is available to assist students in their job hunts. Student Employment and Career Services Director Debra Vaughn said since 2008, the career guidance programs in her department have seen a 124 percent increase in use. (Jennifer Massey/Pioneer)
More students than ever are using the services in Student Employment and Career Services — and they're getting jobs, said Director Debra Vaughn. She said since 2008, the career guidance programs in her department have seen a 124 percent increase in use.
"Career Services are giving the student the tools and empowering them to land the job," Vaughn said.
One program getting the most use is Optimal Resume online at www.occc.optimalresume.com, she said. Some of the tools Optimal Resume offers are cover letter creation, résumé, and interviewing skills practice.
Vaughn said when the Optimal Resume program was installed in 2008 it only had 318 users. However, in two years the program has jumped to 3,253 users.
She said the numbers show her department is doing the right things by "Giving students professional tools, helping students stand out and get the job they want."
Students also are using the Student Employment and Career Services guide more, she said. The guide, helpful for students in job searches, is updated every year and assisted around 1,000 students in landing jobs this year — a 20 percent increase from last year, Vaughn said.
New student Cinnamon Russell, 21, said she is excited to use the resources that Career Services provides, to help her get a job.
With the increase in students enrolled at OCCC, Career Services is expecting to help more students next semester, Vaughn said.
To contact Chasadi C. Fails-Ortiz, email onlineeditor@occc.edu.