Employees honored at convocation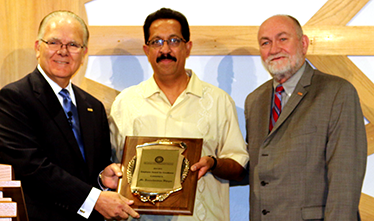 Five OCCC employees were recognized at this year's Convocation and Employee Recognition Ceremony Aug. 11.
Each year, the following awards are given out: The Robert P. Todd Leadership Award, The Elven Gray award, and the Classified, Professional and Faculty Employee of the Year awards.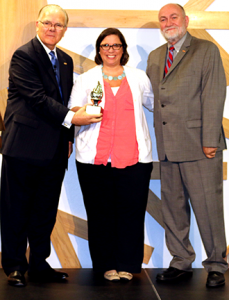 Student Life Director Erin Logan received this year's Robert P. Todd Leadership award. Established in 2006, the award recognizes employees who demonstrate outstanding leadership in their work.
The award is named after former OCCC President Robert P. Todd, who died in December 2005.
In her acceptance speech, Logan thanked her team for their dedication to students.
"I don't do this alone — everybody knows that," she said.
"This is one of the best teams to work with and one of the best schools in the world.
"We are so fortunate to have the students we have, the faculty that we have, the staff that we have here, helping us change the lives of our students."
Josh Wade, Student Services Specialist, was awarded the Elven Gray Award.
In 1991, OCCC created the Elven Gray award to recognize employees who exhibit the characteristics of Gray, who was described as a "one of the college's most dedicated and inspiring employees," and "a gentleman who always, no matter what his circumstances, went above and beyond to serve others."
Wade said the award has a special place at the front of his desk.
"I'm really appreciative of it," he said. "I know [I was] nominated by staff members so it makes me feel really good to know that somebody thinks that about me."
Wade said there is no average day in his position, which he enjoys. He said his department is project-driven, so his job varies — from answering calls about programs to assisting people on campus.
"I deal with a lot of different types of programs so getting to teach people stuff when they don't have any background in it, it keeps you on your toes," he said.
Three OCCC staff received Employee of the Year awards.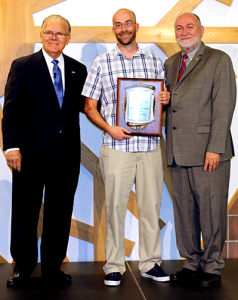 Student Engagement and Moodle End User Administrator Morgan Felty, was named Classified Employee of the Year.
"If I knew I was going to get an award, I would have fixed my hair today," Felty said when he accepted the award.
In a phone interview, he said he wanted to thank the staff at the Center for Learning and Teaching. Felty said whenever something new comes along in his line of work, figuring out a support system for that technology is challenging, but added that's OK because he loves a good challenge.
"I like being challenged with anything, really. Number one, it makes it interesting," he said.
"Number two, you feel more reward after you figure it out and you feel like you've accomplished something."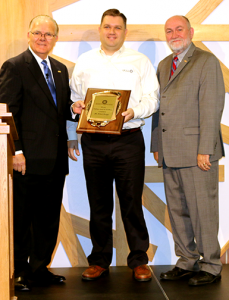 Professional Employee of the Year went to IT Infrastructure Director Rob Greggs. He said student success matters to each faculty and staff member, which makes OCCC such a great college.
"The success of the institution, to me, is important as well as the success of each of you in your departments, in the areas you serve, the students you serve," Greggs said. "What it really comes down to is the success of the students."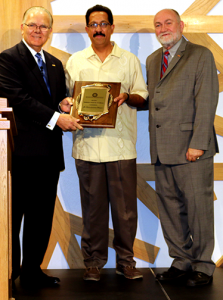 Business Professor Ramachandran Vijiyan won the Faculty Employee of the Year Award.
Vijiyan said when he nominates professors for the award, he always has a difficult time choosing who to nominate because he works with people who do their job very well.
So, he said he is honored to have been nominated and chosen.
"Everybody in this division deserves it [the award]," he said." I'm just lucky someone nominated [me].
"It's not that I am better than any one of them. They all are incredibly good professors."
Those are awarded based on the following criteria:
Performance of regular duties has significantly enhanced the student-centered image of the College or demonstrated overall excellence.
Nominee has significantly affected the quality, efficiency, and cost effectiveness of a program, course, office or activity.
Nominee has been involved in an activity, or activities, that have significantly increased the presence of the College in the community.
Nominee has been involved in an activity, or activities, that have brought state or national recognition to the College.
For more information about the awards or how to nominate an OCCC employee or faculty member for 2016, visit wwwdev.occc.edu/hr/EmployeeRecognitionAwards.html.
Photos: Clayton Mitchell/Pioneer