'Easy A' only receives a C rating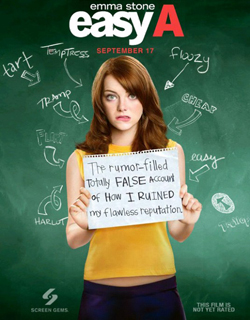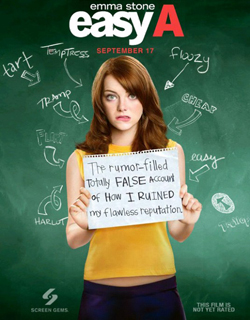 "Easy A" is a defining moment for lead actress Emma Stone, who plays Olive Penderghast, a high school outcast who models her life after Hester Prynne's from "The Scarlet Letter" after a little white lie spreads across her campus.
The story is like that of any high school, and although it is quite humorous, remains played out.
Stone's role is a sarcastic character in constant questioning of her life, and she puts on quite a performance.
In her other monotonous roles like "Superbad" and "The Rocker," Stone was more of a shadow character, yet this part shows she doespossess some leading lady talent.
If Lindsay Lohan's "Mean Girls" shook hands with Ellen Paige's "Juno," "Easy A" would be their bond in friendship, although the performance lacks the luster of satirical wit from Paige, and the audience appeal for sexual content from Lohan.
Many famous faces appear on the screen.
The eclectic cast includes: Lisa Kudow, from the television show "Friends," and Thomas Haden Church from "Spiderman," who play Mrs. and Mr. Griffith respectively.
Malcom McDowell from "A Clockwork Orange" plays principal Gibbons, and even Aly Michalka from the Disney Channel plays Olive's best friend Rhiannon.
However, the most comical experience of the flim, aside from Stone, comes from her "liberal-minded" parents Rosemary and Dill Penderghast, played by Patricia Clarkson and Stanley Tucci.
Director Will Gluck follows each scene as if it were in the dramatic reality of high school, and the cinematography by Michael Grady depicts scenes of relevance that are still enough out of the ordinary to remain interesting.
However, the film is highly judgmental of religion and depicts Christians somewhat like demons with large mouths and hypocritical actions.
Amanda Bynes mainly performs this through the brilliant role of Marianne, but this stale character has already been in the film "Saved" by actress Mandy Moore.
The movie is scheduled to come out Sept. 17 in all theaters and runs approximately 93 min.
The rating is PG-13 for the apparent sexual content and some drug paraphernalia.
"Easy A" is a film to go see with all the girls after a few drinks and a nice dinner.
It is a story that has been enjoyed many times before, but always seems to entertain us with sexual innuendos and cheap laughs.
Rating: C
Staff Writer Bonnie Campo can be reached at staffwriter1@occc.edu.