Duran Duran satisifies fans hunger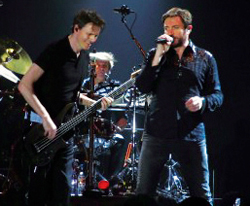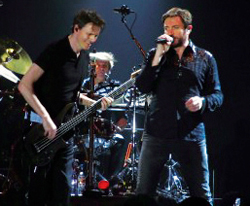 With the release of their 13th album "All You Need Is Now," Duran Duran proved they are still the ultimate party band on March 18 by rocking the stage at Winstar Casino in Thackerville.
The visit to Thackerville was just the second stop on their world tour, which also signifies the 30th anniversary of the release of their self-titled album "Duran Duran."
The performance started with beautiful string chords that soon turned into the recognizable tune of their lead single "All You Need Is Now."
The crowd was instantly on their feet as lead singer Simon LeBon's electric energy turned the room in to an '80s dance party.
After playing several upbeat songs — new and old — the mood of the room changed as the band slowed it down with a few ballads placed toward the middle of the set list such as the 1993 hit song "Ordinary World" followed by what LeBon quoted as being the first time to perform "Mediterranea" live.
Hits such as "Wild Boys" and "Rio" were performed just before the encore.
As the band left the stage, the audience roared wildly for several long minutes before the band returned for two final songs.
The concert ended with a long rendition of "Girls on Film" in which all band members were introduced.
Perhaps the moment that got the crowd most excited was when LeBon gave the audience what he referred to as a "French lesson" by making them chant bass player John Taylor's signature line "Play that fucking bass, John!"
For many, 90 minutes simply wasn't long enough.
The absence of songs like "Hungry Like the Wolf" and "Save a Prayer" left some disappointed but overall, the performance was just as good, if not better than what you would hear on a recording. The band's modern sound and classy looks proved they really have stood the test of time.
The only ones possibly having more fun than the audience was the musicians themselves.
Rating A+