Dragon boaters compete at regatta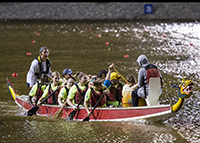 The water of the Oklahoma River shimmered with orange from the red dirt of its banks on Oct. 2 when OCCC's two dragon boat teams Abraxas and Falkor competed under the banner of Row Triple-C.
Roughly a 500-yard stretch of river illuminated by stadium lights was segmented into lanes by lines of buoys.
A crowd of all ages lined the north shore of the river and the dragons took to the river in groups of three.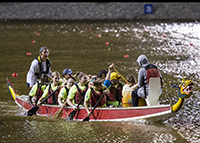 "Attention," the official called out across the water.
The dragon boaters raised their oars over their heads and the athletes of OCCC's Row Triple-C looked ahead.
This was the scene at about 7:40 p.m. on the first night of the Oklahoma Regatta Festival.
Abraxas was the first of OCCC's teams to race.
At the word "go" from the official's megaphone, members of Row Triple-C's team Abraxas dipped their oars to the water and with a concerted effort among the 11 teammates within, the dragon boat sped forward.
Abraxas finished behind the boats that had lined up with them at the starting line.
The team placed ninth overall of the 22 dragon boat teams at the regatta, said Student Life Director and Abraxas paddler Erin Logan.
She said, in another heat, OCCC's team Falkor claimed the fifth best time of the night and qualified for the petite finals, a race between the teams that finished fifth through eighth.
"They raced in that and came in last, but they were still in the top eight best times, which is awesome," Logan said.
Falkor teammates Lindsey Stremlow and Summer Cole said they enjoyed the competition.
"We had a blast," Stremlow said.
Logan said the team is looking forward to the spring season.
She said Row Triple-C will compete again in June at the SandRidge Energy Stars and Stripes River Festival.
Social Media Supervisor and Row Triple-C athlete John Richardson said the teams may look a little different then.
"Next semester, we are trying to switch to one dragon boat team and one rowing crew," Richardson said.
For more information about the regatta and upcoming events on the river, visit boathousedistrict.org
For more information about Row Triple-C visit www.occc.edu/dragon.