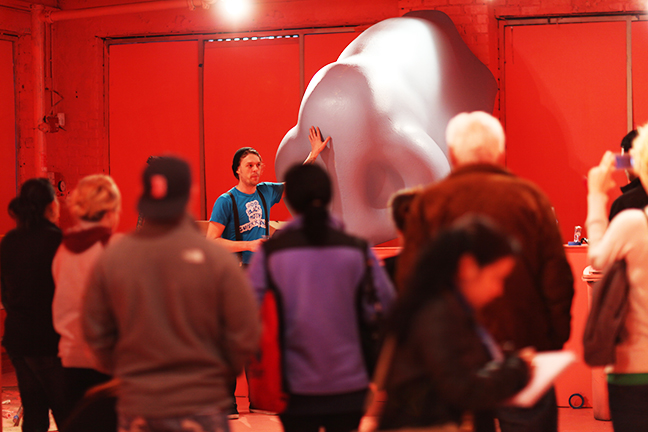 Jake Harms, curator of The Womb Art Gallery, located at NW 9th and Broadway in downtown Oklahoma City, shows a piece that was designed by Flaming Lips frontman Wayne Coyne. OCCC students enrolled in the 8-week course "Understanding Art in OKC" were given a tour of the gallery as part of their class.
________________________________________________________________________
A blue concrete nose the size of a sedan extending out of the wall is the first art object the students notice as they walk into the gallery. The piece was designed by the Flaming Lips lead singer Wayne Coyne.
This is just one of several three-dimensional artworks at The Womb Art Gallery at NW 9th and Broadway in downtown Oklahoma City, which 20 students toured April 18.
The students in a special eight-week course, "Understanding Art in OKC," were treated to a private tour guided by Curator Jake Harms.
"We just want to add something else to art besides just looking at a painting on a wall," he said. "We always like to do stuff differently.
"When you come to our gallery, we want you to walk through the installation," Harms said.
"We want stuff to hit you in the face. We want you to touch stuff. We want you to sit down. You might have to duck under something as you go."
Mary Beth Babcock, owner of Dwelling Spaces, the gift shop next door, assisted Harms with the tour.
"This is not a cookie-cutter building," she said. "It's unique.
"I think that's a very cool thing for the state to have — something this different."
Instead of meeting in a traditional classroom on campus, each week the class gathers at the Oklahoma City Museum of Art in the downtown area.
"The atmosphere is so different from traditional courses on campus," said student Sophia Thurman. "The instructor has a great sense of humor, and I learn about a new and interesting place to visit every class."
Students enrolled in this non-traditional course have many opportunities to take field trips during the semester.
Each week, they visit a different local gallery, art show, or festival, and learn how to critique artwork of all different forms.
Through this course, students have the chance to experience local art in a new way.
"The Womb Gallery changed my perspective on what we would usually consider 'art,'" Thurman said. "I thought it was fun and exciting for this area."
Student Tom Hudman said that is why he took the course, which is offered through the OKC Downtown College.
"The field trip was enjoyable because I could interact with other members of my class and have discussions with them. I would recommend the class to others, and already have," Hudman said. "I'm taking the class for fun, because I wanted to understand art more and learn about the different forms of art."
Adjunct Professor Narciso Arguelles is the instructor, as well as a local artist himself.
"I love teaching. I love to inspire people, " he said.
When students are considering taking this course he wants them "to be open minded and adventurous."
The OKC Downtown College is a consortium of five colleges and universities, including OCCC.
Credit classes on the schedule for fall include Museum Studies, OKC Arts Alive!, and Storytelling.
Each of these non-traditional courses will fulfill the requirement for a humanities credit.
The Downtown Courses fill up quickly when enrollment opens, said Gus Pekara, director of OKC Downtown College. He can be reached for any questions about the courses at 405-232-3382 or gpekara@downtowncollege.com.