Dot Wo serves up ample plates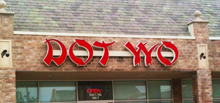 Dot Wo was established in 1989 serving Chinese cuisine at two metro locations.
I chose the one neatly tucked in the corner of Chatenay Square, at the corner of SW 104th and Penn, a short drive from campus with fast service.
I was warmly greeted and promptly seated. Across the room, on the large flat screen, I caught a breaking story on Fox. Apparently a 20-year-woman had attacked a Red Lobster waitress, yep, breaking news, at least for Fox.
The menu is an easy read with plenty of lunch options to fit nicely into a student's budget. I decided to try the four season green bean with chicken. It consisted of stir fried chicken, whole green beans, mushrooms, noodles with soy sauce & an excellent blend of spices. The specials come with a choice of the 'soup of the day' which is either egg drop or hot-and-sour.
I opted for a favorite of mine, hot-and-sour. I had just turned on my iPad when the waitress arrived, took my order and in a snap, returned with the soup and a package of saltine crackers. The soup was lacking the 'hot' I had anticipated. There was a small tidbit of chopped green onion hiding in the bowl.
I was surprised by the amount of food on the platter. It was a generous portion full of seasoned green beans, stir fried chicken, an egg roll, steamed rice and two crab rangoon. The beans were crisp, with a good blend of seasonings. The chicken had a nice texture and the rice was spot on. There was enough left over for two to have a light dinner.
All in all, a great place to sit down and enjoy the quality of service. There's a nice ambiance in the well decorated restaurant, great for meetings or lunch with friends.
There is ample seating to accommodate more than 100 patrons. I will definitely be returning to this friendly restaurant and recommend it to all of my friends. Rating: A
—Yvonne Alex
Staff Writer
To contact Yvonne Alex, email staffwriter3@occc.edu.