Dinosaurs, presidential speeches among library video collection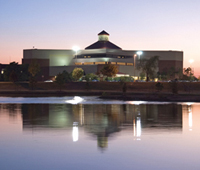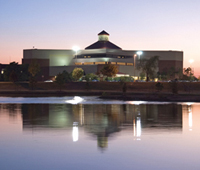 "Building a Dinosaur from a Chicken," "The Real Reason for Brains" and a video collection of speeches given by President John F. Kennedy are just a few of the topics available through the library website's Films on Demands.
Students can research a variety of subjects through Films on Demand, Librarian Amanda Lemon said.
Films on Demand features a large library of educational videos in a wide range of subjects, from humanities to business and from health to mathematics, she said.
"I tell students to look at it like an academic-minded Netflix," Lemon said. "It has short educational films and documentaries."
Films on Demand has been featured on the library's website for the last year and allows students to access videos both on and off campus, Lemon said.
The service is free to students through the library's website.
Lemon said Films on Demand allows users to segment the videos and documentaries into shorter videos. This gives students the opportunity to use these shorter segments in class projects and presentations.
Another useful tool that Films on Demand offers students is the ability to cite the videos in research papers. Each video has a sample citation available in both MLA and APA styles
"If I were doing a research paper and I wanted to use a video, I would probably avoid it because I wouldn't know how to cite it," Lemon said. "But at the bottom of the Films on Demand videos, there's actually a little button that gives a sample citation."
For more information about Films on Demand, contact Amanda Lemon at 682-1611 ext. 7416 or email alemon@occc.edu.
To contact Emily Mayes, email onlineeditor@occc.edu.