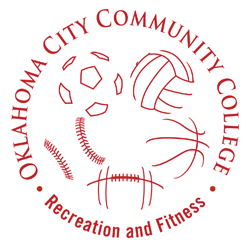 It's not often a college student hears the word "free" and has an opportunity to take advantage of it with no strings attached, but OCCC's Recreation and Fitness Center is completely free to use for current students.
A lot of students are finding time to workout during the summer session by taking advantage of the center's amenities.
Student Dillon Bellamy is using the school's Aquatic Center to train for an upcoming triathlon. He uses the pool for lap swimming during its designated hours throughout the week.
This will be Bellamy's first triathlon, but he has participated in multiple half-marathons.
Bellamy said he loves training for races, mostly 5Ks, and has a few races lined up in the coming months including a six-mile obstacle course, Race the Reaper, in Sparks, and the Zombie Bolt 5K in Guthrie.
The indoor Aquatic Center features a competitive pool 50 meters in length and 25 meters wide that is usually divided into two separate areas by a movable bulkhead for lap and recreational swimming.
The diving well is another feature of the Aquatic Center, with multiple springboards and diving platforms up to 10 meters (over 32 feet) to dive into the over 18 feet deep pool.
According to the Aquatic Center's website, the Aquatic Center was built in 1989 as an outdoor facility and was later enclosed in 1991.
The water in the pool is usually around 82 to 84 degrees Fahrenheit.
Bellamy said prior to becoming a student at OCCC, he had a family gym membership that he used.
"The membership cost about $40 to $50 a month, and I would seldom use it," Bellamy said.
"That's why using the OCCC gym is so nice, it doesn't cost me anything if I use it or not."
The fitness center includes three full-size basketball/volleyball courts, a weight room, and a cardio room which offers stationary bikes, treadmills and elliptical equipment.
The Recreation and Fitness Center also boasts various classrooms used for their many aerobic workouts. These fitness classes include Zumba, Spinning, theatrical dance, yoga, pilates and many more.
Students can purchase a fitness pass to grant them access to any and all group fitness classes for the summer for $35.
"It's really nice that the school offers all of this to students," Bellamy said.
Bellamy said he's glad the fitness center has flexible hours to accommodate his busy schedule of work and school and personal life.
A complete list of fitness classes and Aquatic and Fitness Center hours is listed in the Fitness and Enrichment Programs catalog as well as the the Recreation and Fitness Center's website at www.occc.edu/rf.
To contact Mitchell Richards, email sportswriter@occc.edu.